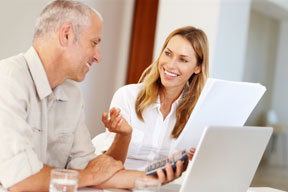 (NewsUSA) – The last couple years have been tough for consumers. Worries about the economy, employment, and political issues can make personal cash management frustrating.But there is a way to get back in the driver's seat with your finances. And while the tough economy may make a robust savings plan hard to achieve right now, there is one area of your wallet you can manage smartly: bill payments.Yes, those bills need to be paid. However, understanding your options in managing those payments, and ways to help avoid unplanned budget-busters, can give you a measure of control over both your credit rating and your bottom line.To keep things simple, here are two quick bill payment tips: Tip No. 1: Time your bill payments.When money's tight, it's tempting to pretend those bills don't exist. That's a bad idea, as ignoring bills means extra costs in late fees and the cost of credit. Instead, prioritize your bills around their due dates, and educate yourself on the bill payment options available to maximize your cash flow and help make payments on time. Consider using a mix of payment methods. If you are mobile-savvy, text reminders and bill-pay are a perfect choice. If you want someone else to stay on top of due dates, schedule recurring payments with your biller or bank.When you're out of time, or simply want the convenience of paying bills while out shopping or running errands, look for a walk-in payment Agent location. Walk in Agent locations are typically located in neighborhoods where you work or reside and offer extended hours and same-day bill payments to many billers. Tip No. 2: Do what works.There are plenty of ways to pay your bills. The best way is your way. Organize your bill paying around what feels most comfortable for you, and staying on top of payments will be (almost) painless. Some like to sit in front of their computer, while others want to pay that utility bill in the store when they're doing their grocery shopping. Whatever works for you is the best way to handle those bill payments.So, as much as possible, try and ignore those bad news headlines. But do pay attention to your bill due dates, and put a payment strategy in place that works for you and your good credit standing.Tips provided by Western Union. For more information, visit WesternUnionPaysMyBills.com.
This article is copyright free. You are free to use it on a blog, website, in a newspaper, or newsletter.
To re-post this, copy the content above, or HTML on the right, and paste onto your site.