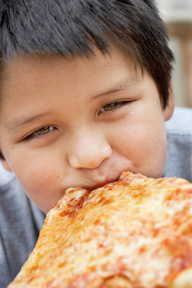 NewsUSA) – The tears rolled down her cheeks, trying to hold back an inescapable rush of emotion as she slowly chewed. However, these were not tears of sadness but tears of joy. For a child who was simply eating a slice of pizza, this is not what would typically be expected, but for Maggie Reilly, 14, the chance to finally eat pizza was an experience she never thought she would have — and she had never been more grateful.

Maggie Reilly is an average American teenager in many ways, but until January 2009, she, had never eaten a pizza outside her own home.

"My daughter was diagnosed with celiac disease when she was three-and-a-half years old. Throughout her life she watched from afar as her friends enjoyed the dish at parties and events," explained Lisa Reilly, Maggie's mother, as she wiped the tears from her eyes. "She always had to bring other foods to eat, and as a result, she felt excluded from many events. It broke my heart to see this, and I know it hurt her to have to go through it."

Celiac disease, which affects approximately 1 percent of the population, is a digestive disease that damages the small intestine and inhibits nutrient absorption. There is no cure for celiac disease — patients simply have to avoid all products that contain gluten, including bread, beer, pasta, most baked goods and pizza.

Experts estimate that 3 million people have celiac disease, while another 7 million suffer other medical conditions, like wheat intolerance or allergy, that necessitate gluten-free diets. According to surveys conducted by the Gluten Intolerance Group, 15 to 25 percent of consumers look for gluten-free products, even if they can digest the gluten protein.

Food manufacturers and restaurants are taking note. Uno Chicago Grill, for example, is the first national casual dining chain to introduce gluten-free pizzas.

"Food allergies are a very serious, sometimes life-threatening issue for many Americans," said Uno CEO Frank Guidara. "Pizza is our signature product, and we wanted to offer a gluten-free pizza so all of our guests could enjoy it when dining at Uno." The chain spent over a year developing a crust that lived up to the Uno name.

The Reillys are certainly grateful. When Uno held a tasting for 350 celiac patients at the Massachusetts Bay Community College's Wellesley Hills Campus, mother and daughter showed up to help sample an iconic food, since Lisa works for Uno — and Maggie wasn't the only one crying. In fact, nearly every celiac disease sufferer broke down at some point during the event.

For more information, visit www.unos.com.
This article is copyright free. You are free to use it on a blog, website, in a newspaper, or newsletter.
To re-post this, copy the content above, or HTML on the right, and paste onto your site.