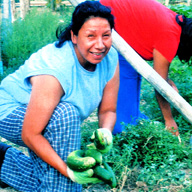 NewsUSA) – Gardening might be a trendy, new hobby for eco-conscious hipsters, but its purpose -; to provide food for a family -; still holds promise for many Americans. On the Pine Ridge Indian Reservation, located in Slim Buttes, S.D., community gardens give families the only fresh fruits and vegetables they eat.

Doctors and health advocates frequently tell Americans to eat more fruits and vegetables. But many impoverished communities lack access to grocery stores, not to mention the income required to feed a family all-organic meals.

On Pine Ridge, many homes are without running water, sewers or electricity. For them, community gardens provide not only entertainment, but also exercise, fresh food and the pride that comes with working to provide for loved ones. The activity from gardening and the fresh food produced help fight obesity and diabetes, problems that afflict American Indians at rates nearly 10 percent above national averages, according to most statistics.

But the reservation's gardening doesn't come easily. Pine Ridge, the eighth-largest Indian reservation in the U.S., sits on some of the nation's poorest land. Rain comes infrequently, and heat, wind, weeds and pests make plants difficult to grow.

For this reason, Running Strong for American Indian Youth (www.indianyouth.org), an American Indian-led charity based in Virginia and affiliated with Christian Relief Services (www.ChristianRelief.org), started its Slim Buttes Agricultural Development project, named after the remote community on the southwest corner of the Pine Ridge Reservation where it is based. Through the project, families can apply for support for their gardening efforts. Running Strong provides funds, seedlings and seeds, tilling and fencing, to help families start their gardens, while also giving seasonal jobs to local Native youth, among whom unemployment reaches over 80 percent, to drive tractors, deliver seedlings and set up drip irrigation and fences.

The 500 family gardens on the Pine Ridge Reservation feed 3,800 people, about 10 percent of the population. Before the community gardens, residents hadn't eaten fresh fruits and vegetables in decades. Now, families grow tomatoes, potatoes, beets, carrots, turnips, beans, melons, peppers, lettuce, spinach, squash, artichokes and corn.

During tough economy times, charities can use all the help they can get. To learn how you can help, visit www.indianyouth.org.
This article is copyright free. You are free to use it on a blog, website, in a newspaper, or newsletter.
To re-post this, copy the content above, or HTML on the right, and paste onto your site.