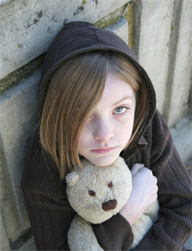 (NewsUSA) – Homelessness can happen to anyone — including families and children.
According to the National Center on Family Homelessness, one out of every 50 American children experiences homelessness each year. That's 1.5 million children. The majority — about 75 percent — are elementary-school-aged. Forty-two percent are younger than six.
To help the homeless children out there, The Company Store (www.thecompanystore.com), a catalog and online retailer of various bedding and home furnishings, launched its Buy One, Give One Comforter Donation Program. The program will benefit homeless children across the country. For every comforter purchased from its website or catalog, The Company Store will donate one comforter to a homeless child. The comforter will be one of the few things a child can call their own — he or she will be able to take it with them when they transition from temporary to permanent housing.
"There are a significant number of homeless children in this country who do not have a home to call their own," says Dennis Warner, chief marketing officer of The Company Store. "The Company Store is committed to bringing some comfort to these children in need."
Homeless children get sick, go hungry, repeat grades and develop learning disabilities more often than children with homes. Numerous charitable organizations work to provide relief and shelter to homeless families, but it's difficult to give homeless children a sense of stability.
"We hope that the donated comforters will raise the spirits of thousands of children and their families as they work to rebuild their lives," says Dennis Warner, CMO of The Company Store.
This article is copyright free. You are free to use it on a blog, website, in a newspaper, or newsletter.
To re-post this, copy the content above, or HTML on the right, and paste onto your site.