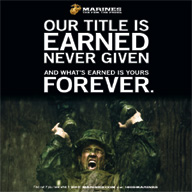 NewsUSA) – In cities and towns across America, from major metro areas to small farming communities, young men and women are heeding their nation's call to service and challenging themselves to see if they have what it takes to become a United States Marine. Marine Corps recruiting has recently experienced an increase in "walk-in" office traffic, as well as online requests for more information about opportunities in the Marine Corps and increased interest in their officer programs.

The increase is in response to a 2007 President-approved recommendation by the Secretary of Defense for a permanent increase to the end strength of the U.S. Marine Corps from 175,000 to 202,000 over the next five years. Currently, the Corps is set to reach this goal in fiscal year 2009, two years ahead of schedule. This outcome is a combination of recruiting efforts, high retention and re-enlistment among Marines, and low attrition among first-term enlistments.

So, what does it take to become a Marine? Answering the call to serve is just the beginning. All who respond must prove themselves in the most demanding 12 weeks of their lives. Marine Corps recruit training is an unwavering, relentless and uncompromising process of transformation. The process instills in all recruits the core values of honor, courage and commitment. Collectively, it is an epic test of mind, body and character.

"There is only one reason to put yourself through the toughest 12 weeks of your life — and that is to become a United States Marine," said Lieutenant Corporal Oscar Franquez, Jr., of Canyon Country, Calif., one of three Marines featured in an advertisement in support of recent recruiting efforts. "Becoming a Marine has allowed me to defend my country and become part of a centuries old tradition of service and sacrifice."

The call to become a Marine is answered by the best and the brightest of each generation. This has been the case since 1775, when the Second Continental Congress requested that the first Marine battalions be formed. For generations, the Marine Corps has taken young Americans who have answered the call and forged them into Marines through a time-tested crucible known as recruit training.

"By earning the title, Marines take their place in a 233-year old brotherhood of smart, tough, elite warriors who are ready to win our nation's battles and serve their communities as quality citizens," said Major General Robert E. Milstead, Jr., Commanding General, Marine Corps Recruiting Command.

The Corps' rigorous training process is featured in America's Few, a new advertising campaign launched September 19 by the Marine Corps. America's Few demonstrates what it really takes for young men and women to earn the title of Marine and take their place in the impenetrable line of warriors stretching back 233 years. The ads can be viewed at Marines.com.
This article is copyright free. You are free to use it on a blog, website, in a newspaper, or newsletter.
To re-post this, copy the content above, or HTML on the right, and paste onto your site.