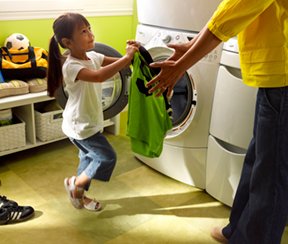 (NewsUSA) – When major household appliances break, family stress starts to mount. Whether it's loads of clothes piling up in the laundry room or food spoiling in the refrigerator, the problem is often inconvenient and expensive to fix.
And with about half of Americans reporting that they do not have enough savings to achieve financial stability, according to a survey by Hart Research Associates, unexpected repairs can create a financial hardship.
That's why the Service Contract Industry Council (SCIC) urges homeowners to buy extended warranties to reduce repairs and other unanticipated costs. They're especially beneficial during times of financial uncertainty and flat income growth, protecting your budget against unexpected repair costs and product failure. They also provide support service and routine maintenance that keep your appliances running longer.
Assurant Solutions agrees.
"Extended warranties essentially pick up where the manufacturer's warranty leaves off, extending and often boosting coverage," explains Joe Erdeman, president of extended protection solutions at Assurant Solutions. "When appliances and electronics are upgraded and redesigned every year, they often become more expensive to repair or replace."
For example, repairing the motor for a clothes dryer (depending on the model) could cost an estimated $282. The average service contract or extended warranty for that same dryer costs around $75. A new compressor for a refrigerator could cost anywhere from $568 to $650, compared to a $106 plan with a $25 deductible. No matter the appliance or specific part needing repairs, the warranty is still a better deal.
Generally speaking, major home appliances should last your family a long time. The average dryer should last about 14 years, and the fridge should keep working for at least 17 years. Some kitchen appliances have a shorter lifespan, such as trash compactors, dishwashers and garbage disposals, which last around 10 years.
The catch to these estimates from the National Association of Home Builders is that most appliances and mechanical systems require regular maintenance. To keep your major appliances working properly, clean your refrigerator coils, check washing machine hoses and empty the ice machine bucket once a month to prevent frosting.
If you're not diligent about performing such chores, the extended warranty can save you time and hassle. It provides routine maintenance, power surge protection and peace of mind.
Learn more about protecting your appliances with extended warranties at www.serviceprotectionadvantage.com/spa/.
This article is copyright free. You are free to use it on a blog, website, in a newspaper, or newsletter.
To re-post this, copy the content above, or HTML on the right, and paste onto your site.