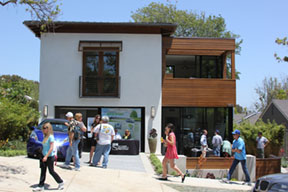 (NewsUSA) – When it comes to homebuilding materials, consumers increasingly want products that are American-made, sustainable and beautiful. In fact, according to a recent Green Builder Media (www.greenbuildermedia.com) study, almost 85 percent of respondents had a positive association with the term "green" and wanted to be known for having a green life.
Green Builder Media's VISION House Series (www.greenbuildermag.com/vision-house) comprises demonstration homes built around the country that showcase the latest in green design, building techniques and products.
For example, visitors to the VISION House in Innoventions at Epcot at Walt Disney World Resort in Lake Buena Vista, Fla., can get a chance to see just how beautiful and useful environmentally friendly products can be. At center stage here are two companies that are leading the way in green building materials made in America.
Boral Roofing is the nation's largest manufacturer of sustainable, durable and affordable clay and concrete tile roofing systems, and the only provider of clay roof tile that is Cradle to Cradle certified. The products use recycled content and are Energy Star rated. Boral also makes the revolutionary "Smog Eating Tile."
Armstrong Flooring has over a century-long history of recycling, sustainable harvesting and environmental stewardship. The company's new line of genuine scraped hardwood, called American Scrape, is made in the USA. A portion of the sales generated from American Scrape is donated to Homes for our Troops, a non-partisan organization that builds specially adapted homes for injured veterans.
By specifying U.S.-made green products, builders and home owners aren't just helping the economy, they are helping the earth as well since American-made green products are generally sourced and produced with higher environmental standards.
Green Builder Media is dedicated to spreading the word about sustainable living and green building to building professionals and consumers throughout North America. "Sustainability doesn't have to equal sacrifice," said Ron Jones, President of Green Builder Media and internationally renowned sustainability expert. "You don't have to give up beauty or quality when you choose a green product — there is a wide variety of smart, sustainable and cost-effective products made in the United States that are easy for homebuilders and owners to access."
This article is copyright free. You are free to use it on a blog, website, in a newspaper, or newsletter.
To re-post this, copy the content above, or HTML on the right, and paste onto your site.