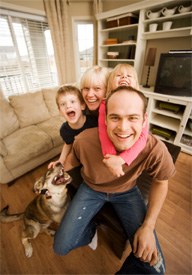 NewsUSA) – Job insecurity and a falling real estate market have left many homeowners feeling unsettled and wary. But, in having your home annually inspected by a Certified Environmental Home Inspector (CEHI), you can give your home a much-needed advantage in a dismal housing market.

As the green movement becomes more widespread, more homebuyers will see "Healthy Green Living Certification" as an added incentive to buy. These inspections, created by Environmental Service Professionals (ESP), perform:

– Moisture and mold inspections.

– Energy audit inspections

– Volatile organic compounds (VOCs) inspections

– 203-point standard home inspections

– Indoor air quality inspections

CEHIs also cover allergen screening, radon, lead testing and other environmental testing as requested by the homeowner. These inspections can find problems in the home before they necessitate more costly repairs. For example, a mold and moisture inspection can reveal wet or damp areas caused by roof leaks or cracked pipes, a problem that costs insurance companies $3 billion every year.

In addition to retaining property value, ESP is currently working with mortgage lenders to provide interest rate discounts for those homeowners who finance 10 years of annual inspections in their mortgages. To save homeowners even more money, ESP is working with insurance companies to give annual discounts on homeowners' insurance policies to those who participate in the annual inspection program.

By having their homes inspected, families will be working toward protecting their investment and their health, but ESP is hoping to make a difference in another way. Currently ESP is working to create jobs for our veterans to ensure that U.S. soldiers are able to make a better transition to serve local communities upon their return. ESP is also in the process of hiring disabled veterans as customer service representatives.

For more information, visit www.espusa.net, or for a free phone consultation, call 888-525-CEHI(2344).
This article is copyright free. You are free to use it on a blog, website, in a newspaper, or newsletter.
To re-post this, copy the content above, or HTML on the right, and paste onto your site.