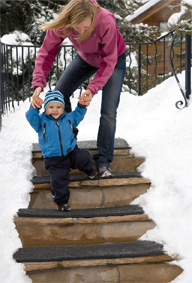 NewsUSA) – Anyone who has lived with snow knows that stairs present a unique challenge. They ice up quickly, becoming slippery and dangerous. Outdoor stairs, which often come in irregular sizes, can be difficult to shovel, especially for senior citizens.

And even if you remove snow, your stairs may still ice up. Melting snow from the roof often falls on stairs leading up to a doorstep, creating dangerous ice layers. Using sand or rock salt is hardly an ideal situation. Many Americans are not physically able to carry heavy bags. When the salt dissolves, it poses a threat to local flora and fauna.

Companies and schools with large facilities have taken a unique approach to ensuring safer stairs in wintery weather — instead of trying to remove snow after it falls, they're using a product that melts snow before it has a chance to build up.

At age 15, Hillel Glazer decided he no longer wanted to shovel snow, so he disassembled a heating pad and combined it with a doormat, promptly shorting out the electricity in his parents' home. As an adult — and with the help of engineers — Glazer returned to his original snow-melting mat idea.

Today, Glazer's company, HeatTrak, makes heated mats that keep walkways clear of snow. Long used by large commercial facilities, HeatTrak's Stair Mats are now available to homeowners.

Built with weatherproof, ribbed carpet, HeatTrak Residential Stair Mats are durable enough to be left outside for the entire winter. The mats plug into standard outlets and generate enough heat to melt snow at a rate of two inches per hour. If homeowners turn the mats on when snow first begins to fall, snowflakes will dissolve as soon as they hit the mats, leaving slip-free stairs.

HeatTrak Stair Mats are safe to own and operate. Each mat has a Ground Fault Circuit Interrupter (GFCI) that instantly shuts off the mat when it senses a current leak. HeatTrak products are sold throughout the United States, Canada and Europe.

For more information, visit www.heattrak.com.
This article is copyright free. You are free to use it on a blog, website, in a newspaper, or newsletter.
To re-post this, copy the content above, or HTML on the right, and paste onto your site.