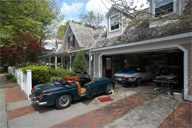 NewsUSA) – Whether used for hosting block parties, garage sales or serving as the main entranceway to the home, the garage is often a hub of activity during the summer months for many families. Now is the time to get your garage in gear.

Check out these tips from The Chamberlain Group, a residential and commercial access solutions manufacturer of LiftMaster garage door openers:

* With the additional traffic running through the garage during this time of year, it's wise to perform a periodic safety inspection of your garage door, especially those equipped with automatic openers.

* Test the opener's safety reverse mechanism monthly by placing a piece of wood or a roll of paper towels in the path of the door. Close the garage door. If it does not automatically reverse and retract back the open position, then the door is creating a safety issue and needs to be adjusted. Log on to LiftMaster.com to find a certified dealer near you and learn what they can do to fix the problem.

* Since storage and organizational needs change between spring and summer, it's a great time to pull out the patio furniture and keep other items you need for the season, such as the lawn mower, grill, and recreational items and toys near the exit to the garage so they are easy to access and use.

* It may seem like you're adding to the mess, but grass clippings are great for keeping dust under control in your garage. Next time you mow your lawn, sprinkle your fresh lawn clippings on the garage floor, then sweep it clean.

* Keep the garage clear of oily and greasy rags as they are easily flammable and can ignite spontaneously. Keep a fire extinguisher in an easily accessible area in the garage as well.

* Protect your garage (and entrance to your home) while you're away on a summer vacation. By installing a LiftMaster Fingerprint Keyless Entry, which recognizes up to 10 unique fingerprints as a way to access your garage, no one can enter or exit your garage while you are gone during vacation — preventing it from being opened in your absence by a stranger. Also ideal for busy families, the Fingerprint Keyless Entry means no more digging for keys or worrying about kids in the neighborhood knowing the keypad's code.

For more information on these products or to contact a LiftMaster professional, visit www.LiftMaster.com.
This article is copyright free. You are free to use it on a blog, website, in a newspaper, or newsletter.
To re-post this, copy the content above, or HTML on the right, and paste onto your site.