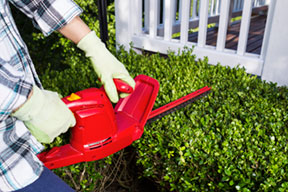 (NewsUSA) – While pouring a bowl of cereal, you spot something moving on the kitchen counter. It's an ant. But this one ant is just an annoyance, right? It can be scooped up and put in the trash. And the situation is over, until you begin to wonder how it got on the counter, and if it has a nest in your home and if that one ant left a trail that its ant friends will follow back to your kitchen? Unfortunately, the likely answer to all these questions is, yes.
April is National Pest Management Month, a time to recognize the role pest professionals play in protecting families' health, food and property from various household pests. The month is also an opportunity to raise awareness of proper pest-proofing techniques to prevent a pest infestation, whether it's keeping out ants or a family of rodents.
As the majority of the country finally emerges from the harsh winter, so will pests such as ants, stinging insects and termites. Pests are resourceful, but homeowners can protect their homes and families with these tips from the National Pest Management Association (NPMA) to help keep unwanted pests outdoors:
Keep trees and bushes trimmed. Pests can make their way into attics and walls if tree branches are too close to a home. Overgrown shrubs or bushes can also shelter pest colonies and hide their point of entry.
Eliminate sources of standing water. Some species of termites need constant access to moisture, and mosquitoes breed in areas of standing water. Dump out containers filled with water, such as old tires and empty flower pots and be sure gutters are functioning properly to make your home less attractive to these pests.
Repair cracks in siding and damaged roofs. Snow, ice and wind can cause damage to a home's exterior. Check for and repair even small cracks so pests have one less access point to your home.
Keep garbage in sealed containers, and dispose of it regularly. Nuisance wildlife, rodents and stinging insects are often attracted to garbage. All trash should be in sealed bags or bins and regularly brought to the curb or dumpster for disposal.
Partner with a pest professional. Consider working with a professional to help find and seal entry points and perhaps establish a maintenance plan to keep pests out. If you suspect you have an infestation, a professional can inspect and identify the problem and recommend the best course of action. Visit pestworld.org to find a licensed pest professional in your area.
This article is copyright free. You are free to use it on a blog, website, in a newspaper, or newsletter.
To re-post this, copy the content above, or HTML on the right, and paste onto your site.