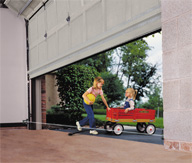 NewsUSA) – With the development of the American garage came the automatic garage door opener. Once a luxury, the garage door opener has become a true necessity — operating in more than 35 million households across the country and relied upon to open and close the largest and heaviest moving object in the home — the garage door.

As garage door openers made their way into American homes, laws were enacted to ensure the safety of those using them. For example, legislation was passed requiring all new garage door openers manufactured after 1992 to possess added safety features. The law mandated that all garage door openers be manufactured and sold with an external protection system otherwise known as infrared sensors or photo eyes.

Garage door openers made prior to 1993 came equipped with force-sensing safety systems that would only reverse the door after having made contact with the object in the door's path. These older models are safe and reliable if installed, tested and maintained properly. However, the vast majority of these older units are not equipped with photo eyes, which trigger the garage door to stop before making contact and then reverse from closing when an obstruction is sensed in the opening, as opposed to the old system that only reversed after making contact with the obstruction, person, child or pet standing in the way.

The Chamberlain Group, the world's largest garage door opener manufacturer, encourages homeowners to take a moment to research when their garage door opener was manufactured. If it dates back before 1993, it is a good idea to check to see if it is outfitted with photo eyes. If not, replace the garage door opener with a newer unit that is equipped with the newest, federally mandated safety features available.

Ahead of the curve, all Chamberlain brand garage door openers sold at home centers, and LiftMaster professionally installed garage door openers come standard with The Protector System photo eyes safety sensors.

To learn more about the products you can install yourself, visit www.chamberlain-diy.com or most major home improvement retailers. To get a professional opinion or find a dealer in your area, visit www.liftmaster.com.
This article is copyright free. You are free to use it on a blog, website, in a newspaper, or newsletter.
To re-post this, copy the content above, or HTML on the right, and paste onto your site.