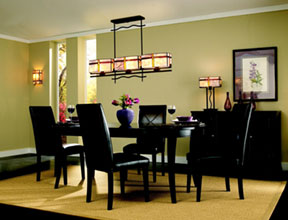 (NewsUSA) – It's easy to instantly trim your energy consumption and boost the eco-friendliness of your home. The key to easy energy savings is lighting, but for many homeowners and renters, knowing how and what to do to improve their home's lighting efficiency can be confusing.
To alleviate that confusion, the American Lighting Association (ALA) offers some easy energy-saving steps:
1. Replace incandescent bulbs with compact fluorescents (CFLs). To make an immediate impact on your energy consumption — and your utility bill — swap out your most-used incandescent bulbs with CFLs. "It's the easiest way to start improving your energy efficiency," says Joe Rey-Barreau, education consultant for the ALA and an associate professor at the University of Kentucky's School of Interior Design. To find the right CFL for you, look at the color temperature listed on the bulb package label. Choose a bulb labeled "residential color," "warm" or "soft white."
2. Replace dimmable incandescent bulbs with dimmable CFLs. As the color range of CFLs has improved, so has their ability to be dimmed, and dimmable bulbs are proven to decrease energy use. However, CFLs still do not have the dimming range of incandescents.
3. Buy name brands. It is frustrating to invest in a longer-lasting bulb only to have it burn out quickly. To avoid that, buy recognizable brands for improved quality and color.
4. Revamp outdoor fixtures. Your outdoor lighting fixture may be beautiful, but it may be an energy guzzler, too. Look for energy-efficient fixtures that use either CFLs or light-emitting diodes (LEDs), or those that activate using a motion sensor or photocell.
5. Buy Energy Star-qualified fixtures and bulbs. Energy Star is a U.S. Department of Energy certification most recognized on appliances — though also used on lighting fixtures and bulbs.
6. Retrofit recessed lighting with LED fixtures. While LED bulbs have a high initial cost, they will last the lifetime of the fixture.
7. Replace undercabinet lighting. With long life and super-high efficiency, some LED lighting also offers fairly easy installation, including pucks and strips used as undercabinet lighting. As an added bonus, LED lights will not give off the undesirable heat of incandescents.
Visit your local ALA-member retail showroom to see the newest products and to talk to an expert about how to improve the energy efficiency of your lighting. To find your closest ALA-member lighting showroom, visit www.americanlightingassoc.com.
This article is copyright free. You are free to use it on a blog, website, in a newspaper, or newsletter.
To re-post this, copy the content above, or HTML on the right, and paste onto your site.