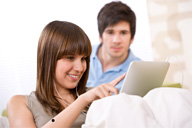 (NewsUSA) – In terms of technology, Apple's iPad is this year's gadget of choice. If you're planning to purchase, or receive, an iPad this year, you'll first want some applications (apps). Be forewarned, this can get addictive, and expensive.
Here are suggestions to get your initial fix — enough to show-off without draining your bank account just yet. All are downloadable from the iTunes App Store.
* Food. The beauty of the iPad is that it can go anywhere with you, like the kitchen, and has a large-enough screen to make reading easier, even with flour on your hands.
For the wannabe Julia Child, consider Epicurious, a free app from Condé Nast, the publisher of Bon Appétit and Gourmet. It offers colorful photos, a shopping list function and the ability to search by main ingredient, cuisine and dietary restriction.
Martha Stewart has her own application, by the way.
* Music. Set a mood with Pandora, a free Internet radio app that allows you to search by a particular artist, song or composer. When you do, it will build an entire station populated with songs and artists that match.
You can also choose the genre of music from Bluegrass and Doo-Wop to Lullabye. The application displays and plays the occasional ad, so an ad-free experience will cost $36 per year.
* TV/Movies. If you love Netflix already for catching up on movies and seasons of your favorite television shows, the company has a free iPad app. To use it, you will need an unlimited membership, starting at $8.99 per month.
* Geek. If you are the person everyone comes to for tech help, or if someone in your family is, LogMeIn Ignition for iPad allows you to remain on the couch when the phone rings.
The app, which costs $29.99, lets you view and control all of your computers from the iPad. Use it to fix a friend's PC or Mac miles away, access files on the computer you forgot in the office, or turn your new iPad into a lightweight laptop.
* Games. Most of the best games for iPad and iPhone cost money. If you're willing to invest, there are great ones, including classics like Tetris ($7.99), Scrabble ($9.99) and the top-grossing Angry Birds ($4.99).
This article is copyright free. You are free to use it on a blog, website, in a newspaper, or newsletter.
To re-post this, copy the content above, or HTML on the right, and paste onto your site.