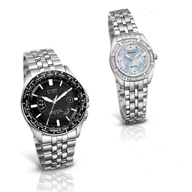 (NewsUSA) – Watches are a traditional gift for a reason. They're one of the few accessories appropriate for both men and women, they serve a useful function and they're classic enough to become family heirlooms.
But modern consumers don't want gifts that appear generic — they want gifts that appeal to their lifestyles and personalities. So, how can you acknowledge their interests while still giving them a timeless, classic gift?
If there's a technophile or environmentalist in your family,
finding the perfect watch might be easier than you think. Citizen Eco-Drive (www.citizenwatch.com) offers watches so technologically advanced — and eco-friendly — you'll never need to change a watch battery again.
Citizen Eco-Drive technology converts light from any natural or artificial source into energy. The watches store the energy in a permanently rechargeable lithium-ion cell that starts recharging the second it is exposed to light — this means that the watch can run forever. The watch contains a power reserve so it can run continuously for at least six months, even in the dark.
Because the battery is permanently rechargeable, it never needs to be replaced or thrown out. Citizen Watch Company estimates that, over the past 15 years, it has prevented over 15 million batteries from being manufactured and subsequently thrown out.
The technological advances don't begin and end with the
battery. The newest Citizen Eco-Drive radio-controlled analog world timer, the World Perpetual A-T, has radio-controlled accuracy perfection in North America, the United Kingdom, Europe, Japan and China. Both sport and dress models are available.
The Citizen Eco-Drive Paladion features 26 diamonds and is water resistant to 100 meters. Citizen's Ladies' watches appeal both to environmentalists and fashionistas, as mother-of-pearl dials, diamond-embellished cases and sport chronographs are all available.
For more information, visit www.citizenwatch.com.
This article is copyright free. You are free to use it on a blog, website, in a newspaper, or newsletter.
To re-post this, copy the content above, or HTML on the right, and paste onto your site.