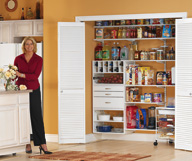 NewsUSA) – As you start preparing for holiday guests, take a look at your home. Is it crowded with clutter? If so, you might want to think about getting your home in order. After all, you need to make room for a Christmas tree, gifts and stockings!

Not sure how to start? Here are some tips from Shelving.com, where folks have been making space work better for almost 50 years. If you need more efficient storage space, they have the answer:

– Maximize your space. If you have an old-fashioned closet with just one shelf and one hanging bar, install shelves and use all the vertical space you have. Most closets only utilize about 50 percent of their storage capacity. With a properly designed shelving system, you can use nearly all of the available space.

– Make items easy to find. You don't want to waste time pawing through closets or searching under beds to find what you need, so don't just jam clutter out of sight. Create a more efficient storage space. Use labeled bins in your closet. Box up and store off season items. Use shelves and drawers to categorize items.

– Decorate with storage space. Put ottomans in the living room, and use them to store magazines or board games. Hang attractive shelves to decorate along your walls. Instead of end tables, use antique chests or drawers that also provide useable storage space.

Keeping calm during the chaotic holiday season starts at home — clutter creates stress and will certainly disrupt the peace and joy of the holiday season. Start with one project (say, a single room or closet) before tackling another.

An efficient home is a happy home. Become happy and organized with the help of The Shelving Store. Visit their Web site at www.TheShelvingStore.com/small for ideas. They offer free shelving designs for just about any space in your home.
This article is copyright free. You are free to use it on a blog, website, in a newspaper, or newsletter.
To re-post this, copy the content above, or HTML on the right, and paste onto your site.