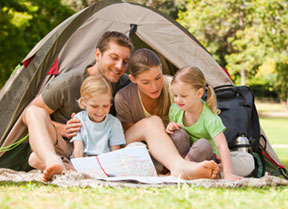 (NewsUSA) – Tick-borne illnesses are found throughout the United States. Though Lyme disease, transmitted by blacklegged ticks, is the most pervasive and publicly discussed, the Centers for Disease Control and Prevention (CDC) lists a wide range of diseases spread by ticks. With tens of thousands of people impacted each year from such illnesses, the National Pest Management Association (NPMA) advises summer enthusiasts about the danger of disease transmission from ticks and encourages them to take proper precautions to protect against exposure to these blood-sucking pests.
"Illnesses associated with ticks are becoming more common," warns Dr. Jorge Parada, medical advisor for the NPMA. "For instance, Lyme disease, once considered exclusively an east coast issue, has now been reported in every state except Hawaii."
Many tick-borne illnesses have common symptoms such as fever, chills, head and muscle aches, and some such as Lyme disease, Rocky Mountain spotted fever, ehrlichiosis and tularemia can present with rashes. "Tick bites are often difficult to diagnose, but if you are ill and may have been exposed to a tick bite, it is important to contact your physician," advises Parada.
The NPMA, an organization committed to protecting the public from the diseases and dangers of pests, suggests people take these steps to protect against ticks:
* Minimize time spent in wooded areas or those with lots of shrubbery and tall grass.
* Use an insect repellent containing DEET.
* Wear long sleeves, long pants and a head covering when outdoors.
* Wear light-colored clothing so ticks are easier to detect.
* Check yourself and family members for ticks after spending time outside.
* Keep yard grasses trimmed.
* Remove weeds, woodpiles and other debris from the yard.
* Prevent nuisance wildlife, which often carry ticks (and fleas), from taking up residence in your yard.
* Ensure pets are protected against ticks for their safety and yours.
Tick activity is highest during the warmer months. To learn what ticks are prevalent in your area and additional ways to protect against them, visit www.pestworld.org.
This article is copyright free. You are free to use it on a blog, website, in a newspaper, or newsletter.
To re-post this, copy the content above, or HTML on the right, and paste onto your site.