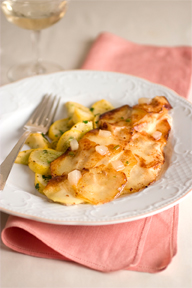 NewsUSA) – A medida que el otoño trae en el aire ese frío especial, estadounidenses empiezan a buscar platos abundantes. Pero una comida que llene no significa un plato lleno de calorías y grasa – un pescado magro puede aportar mucho sabor a la mesa.

Tome el bagre criado en granjas de los EE.UU. Estos pescados son criados con una dieta formulada especialmente de granos enteros, garantizando un sabor limpio y suave. Filetes de bagres criados en granjas de EE.UU. son altos en proteínas y bajos en grasas saturadas.

Vea como los sabores de temporada complementan al bagre con esta receta de Papa con costra de Bagre en Glaseado de Manzana y Jalapeño de Granny Smith:

Papa con costra de Bagre en Glaseado de Manzana y Jalapeño de Granny Smith

Rinde para 2 porciones

2 filetes de bagre criados en granjas de EE.UU.

2 papas tamaño mediano, peladas y cortadas en rodajas muy delgadas

1 cucharada de mostaza Dijon

1 cucharada de mostaza criolla

1 cucharada de miel

1 cucharadita de vinagre de cidra

4 cucharadas de aceite de oliva

Para el glaseado

1/4 de taza de jalea de manzana

1 cucharada de agua

1/2 manzana, pelada y en cubitos

1/2 jalapeño, sin semillas y picado

1. Precalentar el horno a 350 grados Fahrenheit.

2. Mezclar mostaza, miel y vinagre.

3. Untar la mezcla de mostaza sobre los filetes de bagre; ponga las rodajas de papa sobre la mostaza, empujándolas hacia abajo suavemente.

4. Calentar el aceite de oliva en una sartén antiadherente a fuego medio-alto. Colocar en la sartén con la cara hacia abajo el bagre con papa. Cocínelo de cuatro a cinco minutos.

5. Retirar los filetes, y colocarlos en una bandeja para hornear. Colocar en el horno y hornear 12 minutos o hasta que las papas estén doradas y el pescado esté bien cocido.

6. Sacar el bagre del horno y colocarlo en un plato para servir.

7. Tomar una olla pequeña, y combinar los ingredientes para el glaseado. Calentar ligeramente y rociar sobre los filetes.
This article is copyright free. You are free to use it on a blog, website, in a newspaper, or newsletter.
To re-post this, copy the content above, or HTML on the right, and paste onto your site.