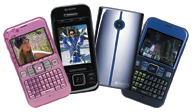 NewsUSA) – Comenzó con los tonos. En lugar de los tonos ordinarios, los teléfonos alertaban a sus dueños de llamadas entrantes por medio de citas, canciones y melodía. Las personas expresaban su individualidad por medio de su elección de tonos -; Beyonce o Betethoven, Hannah Montana o Wycleaf Jean.

Pero la tendencia hacia una tecnología personalizada, desde hace rato se ha extendido mas allá de los tonos de celular. Hoy en día se trata de la apariencia. Los celulares pasados venían en colores neutrales, como el negro y plateado -; los nuevos modelos vienen en colores ajustados a cada personalidad.

Por ejemplo, 80 por ciento de los Kyocera G2GO M2000 es una pantalla, así que el tapiz e imágenes pueden cambiar totalmente la fachada de un teléfono. Los usuarios pueden enseñar sus actores favoritos y grupos musicales o hasta utilizar fotos que tomaron de ellos mismos.

¿Qué color queda mejor con su personalidad? Kyocera proporciona esta lista de colores y lo que algunos expertos dicen significan:

* Negro -; Serio, Intenso, Misterioso, Tormentoso, Excitado, Energético.

* Rojo -; Apasionado, Activo, Aventurero, Excitado

* Orange -; Pensando, Buscando, Estimulando Ideas.

* Azul -; Feliz, Calmado, Optimista, Pacifico.

* Morado — Travieso, místico, Sensual.

* Gris — Relajado, Despreocupado.

Claroe sta, que los celulares deben ser funcionales así como atractivos. Los nuevos modelos son elegantes y livianos, sin embargo poseen características codiciadas, incluyendo acceso inalámbrico al internet, tecnología bluetooth, Reconocimiento de voces, tocadores de música y capacidades de mensajería. Y estos junto con características de primera como teclados QWERTY, que ahora están disponibles para casi cualquier presupuesto.

Para mayor información visite, www.kyocera-wireless.com.
This article is copyright free. You are free to use it on a blog, website, in a newspaper, or newsletter.
To re-post this, copy the content above, or HTML on the right, and paste onto your site.