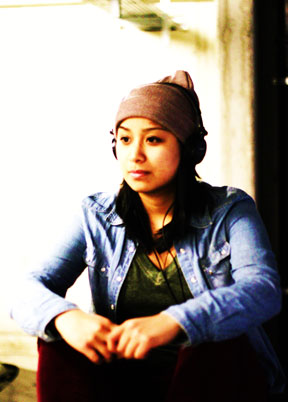 (NewsUSA) – While ethnic rap and hip-hop artists can have a difficult time breaking into the U.S. market, it's not impossible.One has only to look at pop and R&B artist Jay Sean — who resides in the U.K. but is of South Asian descent — as a perfect example.The newest protege to try and break the barrier from Europe to the U.S. is a 19-year-old Asian female version of Eminem named Abie Flinstone.Hailing from Southern Davao in the Phillippines, but currently residing in Lommel, Belgium, Flinstone says she is determined to make a name for herself in the streets and across the nation.And according to her New York-based indie label, Big Jake Music, Flinstone is on her way to doing just that."Abie has the potential and makings to be a musical force to be reckoned with," said Jake Shapiro, founder of Big Jake Music.After sending a demo to Absolute P Entertainment (Mosticko Records) late last year, Flinstone took the underground and club scene by storm with her "Get Outta My Way," single featuring Kaliq Scott.With a 90's feel to her lyrics, but with a millenium twist, Big Jake Music thinks their newest artist is in a category of her own."Abie is a crossover star. She is a combination of dance, hip-hop, and international genres all wrapped up in tight lyrics, humor, and beats that you make you want to pump up the volume, smile and wiggle it," Shapiro said.Big Jake Music is a multi-media brand and entertainment company focused on delivering high-energy, cutting-edge musical content to global consumers and fans.Having recently been acquired by Seven Arts Entertainment Inc. (NASDAQ: SAPX), the indie music label now believes it has the backing and the ability to focus on up-and-coming new artists like Flinstone and others.For more info on Flinstone or Big Jake Music, visit www.bigjakemusic.com or www.7artspictures.com.
This article is copyright free. You are free to use it on a blog, website, in a newspaper, or newsletter.
To re-post this, copy the content above, or HTML on the right, and paste onto your site.