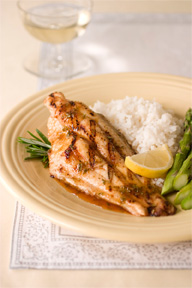 NewsUSA) – – El clima de invierno a menudo significa cazuelas y otras comidas para confortar, pero usted todavía puede crear comidas ligeras, sabores frescos con ingredientes de la temporada.

El bagre criado en granjas de EE.UU. esta disponible todo el año. El bagre se empaca rápidamente después de la cosecha, por lo que es uno de los pescados frescos con mayor disponibilidad.

Mejor aún, el bagre de granja se alimenta de una dieta que garantiza un sabor un poco dulce, suave. Alto en proteína y bajo en grasa saturada, el bagre proporciona nutrientes saludables y ácidos grasos como el omega-3.

El cítrico y el romero pueden iluminar hasta el día más triste del invierno. Aquí, hacen un plato de bagre con suficiente sabor para entretener y rápido de hacer para un día de la semana:

Bagre con romero y cítricos a la parrilla

Rinde para cuatro porciones

Para el bagre:

4 filetes de bagre criado en

granjas de EE.UU.

1/2 limón fresco por filete

Salsa cítrica:

Ralladura de la cáscara de una lima

Ralladura de la cáscara de un limón

Ralladura de la cáscara de una naranja

6 onzas de jugo de piña

1/2 taza de azúcar morena

1 cucharada de romero fresco, picado

1/4 cucharadita de sa

1. Precaliente la parrilla.

2. Para hacer la salsa, combine todos los ingredientes en una olla pequeña. Deje que hierva, reduzca la llama. Deje cocer durante cinco minutos.

3. Ponga los filetes de bagre en un plato y exprima 1/2 limón sobre cada uno. Agréguele sal y pimienta fresca molida al gusto. Deje reposar por cinco minutos.

4. Coloque los filetes de bagre sobre la parrilla, piel boca arriba, por tres o cuatro minutos. Voltéelos y áselos en la parrilla de dos a tres minutos más.

5. Ponga los bagres en un plato para servir, y rocíe una cucharada de la salsa cítrica caliente sobre cada filete.
This article is copyright free. You are free to use it on a blog, website, in a newspaper, or newsletter.
To re-post this, copy the content above, or HTML on the right, and paste onto your site.