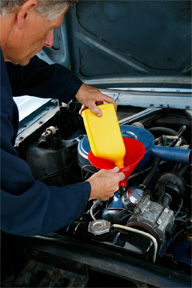 NewsUSA) – A medida que el clima comienza a ponerse más fresco, puede que sea momento de pensar en hacer un cambio en el aceite de su motor.

La mayoría de proveedores de servicios a motores recomiendan recibir un cambio en el aceite y en el filtro del aceite cada tres meses o 3,000 millas, o según lo establecido en el manual del automóvil. A pesar que estos cambios de aceite pueden parecer como una molestia, estos ayudan a la larga vida del motor de su vehículo.

Según los expertos en Firestone Complete Auto Care, el motor de un vehículo contiene muchas piezas móviles que se frotan la una con la otra y causan fricción. El aceite del motor lubrica la superficie de estas piezas móviles, reduce la fricción y enfría el motor al movilizar el calor. También ayuda a despejar desechos del motor y previene la corrosión.

Con el tiempo, el aceite se pone sucio y pierde su habilidad de pegarse a los componentes metálicos del motor. Si el aceite y filtro de aceite no son cambiados regularmente, los desechos se calientan y la fricción puede ocasionar daños severos en el motor, lo cual requeriría de reparaciones que pueden costar unos miles de dólares.

El aceite viene en una variedad de grados y pesos (o viscosidad). Para proteger completamente su motor. Conserve la garantía del vehículo y optimice el rendimiento, este seguro de seguir las recomendaciones en el manual del vehículo.

Un cambio regular de aceite y de los filtros de aceite puede ayudar a extender la vida de su vehículo así como mantener su rendimiento. Deje que la temporada de cambio sea un recordatorio que puede que sea hora de hacer un cambio de aceite.
This article is copyright free. You are free to use it on a blog, website, in a newspaper, or newsletter.
To re-post this, copy the content above, or HTML on the right, and paste onto your site.