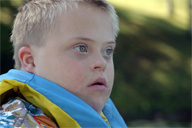 NewsUSA) – The Special Olympics have become a life-changing organization. Originally started as a summer camp, the Special Olympics have grown to serve 3.2 million intellectually and physically disabled athletes worldwide. The organization sponsors 90 games a day, every day, around the world.

But despite the many successes observed by the Special Olympics each day, there still remains a glaring need — many people with intellectual and physical disabilities do not receive adequate eye care. According to research, 68 percent of Special Olympics athletes have not had an eye exam in three years. Thirty-seven percent need, but do not have, eyeglasses, while 18 percent wear eyeglasses with the wrong prescription.

To combat this problem, The Special Olympics-Lions Clubs International Opening Eyes program, an initiative funded by Lions Clubs International Foundation, holds vision screenings at Special Olympic sporting events worldwide. Opening Eyes volunteers diagnose vision problems and distribute protective and prescription eyewear, all for free. Special Olympics athletes who get a vision screening receive a certificate detailing any problems that hometown providers might have to address, as well as lessons in eye care and safety.

Today, Opening Eyes has screened over 150,800 athletes and provided prescription eyewear to over 44,000.

The Opening Eyes program also provides another needed service — teaching its volunteer vision specialists, including students and professors, to take better care of patients with intellectual and physical disabilities.

Funded by $10 million from Lions Clubs International Foundation, this partnership program has been guided into its eighth year with the help of Lions Clubs members, Special Olympics staff and many other volunteers and staff.

For more information, visit www.lionsclubs.org and www.specialolympics.org.
This article is copyright free. You are free to use it on a blog, website, in a newspaper, or newsletter.
To re-post this, copy the content above, or HTML on the right, and paste onto your site.