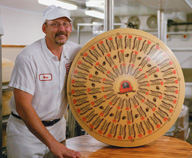 (NewsUSA) – For many travelers, cultural immersion no longer means walking tours to monuments or through art museums. Instead, tourists seek to satisfy their stomachs along with their wanderlust.
So-called "food vacations" are on the rise. According to one 2007 study, 27 million Americans included culinary activities as part of their travel plans between 2004 and 2007. Almost half of the people traveling chose their destinations with food in mind.
And while cities like New York and Paris tend to attract the most food tourists, some Americans like to experience more local color. From crab feasts in Maryland to fish tacos in California, the U.S. features enough regional specialties to surprise and delight any palate.
Take Wisconsin. The state's rich agricultural tradition, combined with its diverse, multicultural population, makes for unique eats. For example, Wisconsin's early European immigrants gave the state a fine brewing tradition. Today's visitors can sample high-quality brews throughout the state.
A good place to start might be New Glarus Brewery. The quaint operation uses all-natural ingredients in its handcrafted beers. Sample the Fat Squirrel, which contains six types of locally grown barley malt, or the Raspberry Tart, a sweet framboise. New Glarus also houses an authentic Swiss bakery. So, grab some torte or strudel for the road.
Travelers can also tour the state's main cranberry-growing regions, Wisconsin Rapids, Eagle River and Warrens. Families visiting Warrens should stop by the Wisconsin Cranberry Discovery Center and Ice Cream Parlor, which features cranberry pies, cranberry scones, cranberry chocolate chip cookies and five flavors of cranberry ice cream.
No trip to the "Dairy State" would be complete without cheese. Try a Limburger cheese sandwich with mustard and onion on rye at Baumgartner's Cheese Store & Tavern in Monroe. In Plain, visitors can tour Cedar Grove Cheese, Inc., which has made cheese since 1878. Travelers to LaValle shouldn't miss a tour of Carr Valley Cheese, whose cheeses have won more than 60 top awards in U.S. and international competitions.
For more information, visit www.travelwisconsin.com.
This article is copyright free. You are free to use it on a blog, website, in a newspaper, or newsletter.
To re-post this, copy the content above, or HTML on the right, and paste onto your site.