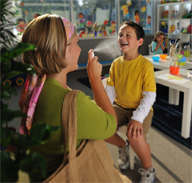 NewsUSA) – Whether you work, travel or have children, it seems as though you're constantly at risk for catching the latest bug going around. No matter how many precautions you take, those devious germs still find a way to make you sick.

That's because germs don't enter the body through our skin, but through susceptible areas like our eyes, nose, mouth and abrasions. When we touch our eyes or mouth with unclean hands or objects, germs are given an express lane entrance. When we're in close proximity with others, such as at work, school or simple social interactions, we're at risk.

But one Kentucky-based company has released a new product that has germaphobes everywhere rejoicing. Previously available only to professionals and a staple among police, firefighters and corrections and health care workers, MyClyns is the latest tool in the germ-defense arsenal. As a non-alcohol solution, MyClyns can be sprayed directly into the eyes, nose, and mouth — even minor cuts and abrasions — without any stinging or burning.

How does MyClyns work? Let's say you've just been coughed upon or have a sniffling coworker sitting next to you. Simply take out your pen-sized MyClyns device, which contains about 50 sprays, and spray into your mouth, eyes or any other entry point. Independent laboratory tests show that the solution in MyClyns reduces more than 60 pathogens by 99.99 percent.

It's no wonder, then, that MyClyns is quickly becoming the new "must have" for savvy business travelers, office managers and, of course, mothers.

MyClyns was developed by Union Springs Pharmaceuticals to give first responders, military and other health professionals another line of protection in the field, where they are often exposed to germs via third-party blood and bodily fluids. It is now available to consumers for the very first time.

The product, which retails for $9.99, can be purchased over the counter at most drug stores, supermarkets and other general

merchandise stores. Information about the product and its availability can be found at www.mygermspray.com.

So, germaphobes delight.

You can leave less to chance this winter.
This article is copyright free. You are free to use it on a blog, website, in a newspaper, or newsletter.
To re-post this, copy the content above, or HTML on the right, and paste onto your site.