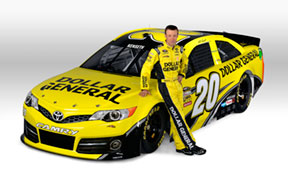 (NewsUSA) – Every year, NASCAR fans patiently wait for the Daytona 500 in Daytona Beach, Fla. to see gutsy drivers and unpredictable racing. This year's 55th anniversary will prove even more surprising with the debut of the Sprint Cup Series Generation-6 race car, replacing the boxy model that's been racing since 2007, and ignite new, fierce competition from veterans and rookies alike.
Receiving heavy attention is Daytona's defending champion, Matt Kenseth, who will be driving the new Dollar General No. 20 Toyota Camry as part of the Joe Gibbs Racing team. NASCAR fans are also excited to see traditional favorites, including Kyle Busch, Denny Hamlin, Jeff Gordon, Dale Earnhardt Jr., and Tony Stewart as excitement builds over newer stars, like Danica Patrick, who posted some of the fastest speeds during preseason test runs.
Like Kenseth's peers, he's in for some uncertainty. The Gen-6 is supposed to have enhanced safety features after two years of development and help from NASA. Closely resembling a streetcar, it features drivers' last names on the front windshield, but speculation says the faster car may lead to unpredictable racing while drivers adjust to the new handling conditions.
In an early prediction of Daytona's outcome, Bleacher Report favors vets like Kenseth, Gordon, Earnhardt Jr. or Stewart, assuming they adjust well to the Gen-6 car.
Regardless of the winner, Dollar General expects the Daytona 500 to boost interest in NASCAR and invigorate fans, which is reflective of its increased sponsorship in the 2013 Sprint Cup Series. The country's largest small-box retailer will also continue its full-season sponsorship of Brian Vickers in the Nationwide Series. Between the advantages of social media and the anticipated premiere, both attendance and viewership may soar. This means only good things for sponsors like Dollar General.
This year, Dollar General is also going the extra mile to help customers and viewers. When the Dollar General car wins with either Kenseth or Vickers at the wheel, customers who shop online with Dollar General will receive an additional 20 percent off their everyday low price, or, if the Dollar General cars have a top-10 finish, customers will enjoy 10 percent savings online. Discounts are only available the Monday after the race, only at www.dollargeneral.com.
Plus, Dollar General is a veritable one-stop shop for all racing needs. From snacks and plates, to beer and wine, DG will complete your Daytona experience, and with over 10,000 convenient locations, there's sure to be one close.
This article is copyright free. You are free to use it on a blog, website, in a newspaper, or newsletter.
To re-post this, copy the content above, or HTML on the right, and paste onto your site.