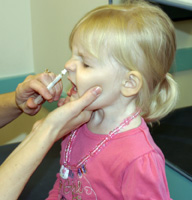 NewsUSA) – Those still putting off their H1N1 and seasonal flu shots might want to rethink their ignore-the-flu-and-it-won't-happen strategy. Family physicians report seeing a 78 percent increase in the number of patients suffering flu symptoms. And the flu is easily transferable — touch the wrong door knob or breathe the wrong air, and you might end up in bed with a fever, nausea and chills.

Family doctors are rising to the occasion. According to a survey of 462 doctors conducted by the American Academy of Family Physicians (AAFP), 92 percent of doctors have educated their patients about H1N1 flu prevention, while another 84 percent have reviewed their patients' medical records to identify and inform the most at-risk.

"As community-based physicians caring for the entire family, family doctors are on the front line in combating the H1N1 pandemic," said Lori Heim, MD, AAFP president. "Physicians are staying up to date on the current clinical recommendations, working with their patients to promote behaviors that will limit the spread of the virus and are also adapting how they operate their practices this flu season."

The AAFP offers the following tips on preventing and treating H1N1 and seasonal flu:

* Get your flu shots. Vaccination offers the best protection against H1N1 and seasonal flu. The Centers for Disease Control and Prevention (CDC) says that the H1N1 vaccine is especially important for six-month to 24-year-olds, child care providers, pregnant women, medical personnel and those with compromised immune systems.

* Stay healthy. Wash your hands frequently and avoid touching your eyes, nose and mouth. Choose foods rich in vitamin C, like citrus, strawberries, broccoli and cauliflower, and vitamin D, which can be found in fish, fortified milk and some cereals. To keep your immune system functioning at its best, exercise and get enough sleep.

* Know when to seek medical attention. Not everyone with flu-like symptoms needs medical attention -; but some patients may require medical care or anti-viral drugs to beat the infection.

Seek immediate medical attention if children display fast or troubled breathing, bluish skin, an inability to drink fluids, irritability to the point where they cannot be held, a fever with a rash, or symptoms that ease only to become more severe, or if they do not wake up or interact when prompted.

Adults experiencing difficulty breathing or shortness of breath, pain or pressure in the chest or abdomen, sudden dizziness, confusion, or severe or persistent vomiting should see a doctor at once.

For more information, visit www.FamilyDoctor.org/H1N1.
This article is copyright free. You are free to use it on a blog, website, in a newspaper, or newsletter.
To re-post this, copy the content above, or HTML on the right, and paste onto your site.