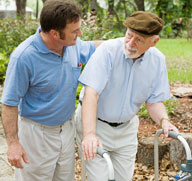 NewsUSA) – Every day, many Americans find themselves in an unexpected new role. They become a family caregiver for a loved one suffering from chronic pain.

Experts estimate pain affects 76 million Americans, more people than diabetes, coronary heart disease, and cancer combined. Pain can interfere with daily activities, and those affected may need help from family and friends. Providing care for a loved one experiencing chronic pain presents a unique set of challenges, such as making sure your loved one reports pain to his or her healthcare provider and that your loved one's pain is taken seriously by those who provide care.

"Each person may feel pain differently. Although it is a physical sensation, perceptions of pain are influenced by social, cultural, and psychological factors," said Suzanne Mintz, president and CEO of the National Family Caregivers Association. "It can be difficult to make sure your loved one's pain is evaluated appropriately."

Unfortunately, there has been little information and few resources available to help family caregivers cope with these problems. The National Family Caregivers Association has teamed up with the national pain management education program Partners Against Pain to create Caregiver Cornerstones, a new program that provides information, encouragement, and tools to family caregivers who are caring for loved ones suffering from chronic pain.

The four Caregiver Cornerstones are:

1. Learning about pain management. Taking an active role in helping to manage a loved one's pain may help you feel more useful and worry less.

2. Caring for a person with pain. This includes making sure that patients receive proper assessment and follow their treatment plans.

3. Caring for yourself. Being a family caregiver can be a demanding job. Allow others to help provide a support system.

4. Advocating for all people in pain. The Caregiver Cornerstones program offers guidance on raising awareness about the importance of access to appropriate and effective pain care.

More information about the Caregiver Cornerstones program and tips for caring for loved ones suffering from chronic pain can be found at www.partnersagainstpain.com.
This article is copyright free. You are free to use it on a blog, website, in a newspaper, or newsletter.
To re-post this, copy the content above, or HTML on the right, and paste onto your site.