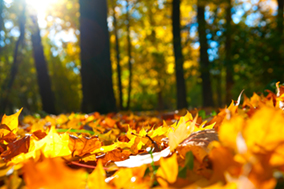 (NewsUSA) – Just as spring is a time for rebirth, autumn is also considered a transitional season. The weather turns brisk, the leaves on trees change from dull brown to a firestorm of color, and darkness settles in earlier.
For many, it is a favorite time of year, but for others it can be a trigger to falling off the health and fitness wagon. After all, how can you be expected to ignore pumpkin spice lattes?
The key, say experts, is to set goals before the new year, not over a drink as the clock strikes midnight.
"Fall … is a great time to start a fitness program because you're going to create good habits for the holiday season and the upcoming winter months," says Justin Price, owner of Biomechanics, a personal training and wellness coaching facility in San Diego, Calif.
The following tips will give you ideas on how to stay healthy (and maybe even avoid the pumpkin cheesecake) through what is arguably one of the most pleasant times of the year:
* Head for the hills. Fall is a great time to get outside and explore your own backyard. So, grab a friend and find a local park to walk, run or bike on. If you're lucky enough to live close to hills or mountains, autumn is a perfect time to go for a hike.
* Turn chores into a workout. Raking leaves or gardening burns about 150 calories every 30 minutes, so if you find that you don't have time for exercise, grab a rake or a hoe, and turn seasonal tasks into a fat-burning workout.
* Drink plenty of water. Without water, no living thing can survive, which means it is crucial to maintaining optimal health. While water has a myriad of health benefits, research has shown that in order for your body to function properly, it must continuously work to maintain a proper pH, or chemical balance.
This, say experts, is why drinking alkaline ionized water such as Alkame Water (www.alkamewater.com) should be an essential part of anyone's health plan. The mild alkalinity is recommended by doctors because it allows for more effective hydration by supporting an optimal pH-balanced body. Additionally, Alkame is a powerful source of antioxidants, which boost the immune system, while also improving aerobic capacity and enhancing energy levels.
* Try something new. Fall is the perfect time to gain new physical skills, says Price. Always wanted to learn to in-line skate or ride a horse? Fall is a great time to explore an activity that you've always wanted to try.
This article is copyright free. You are free to use it on a blog, website, in a newspaper, or newsletter.
To re-post this, copy the content above, or HTML on the right, and paste onto your site.