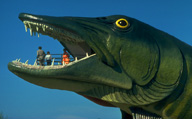 (NewsUSA) – While high-brow cultural events might appeal to some, many travelers choose roads paved with kitsch, knick-knacks and dinosaur sculptures.
Americana -; or the diner-laden culture of folktales and Norman Rockwell paintings -; produces donut burgers and giant balls of string, local food festivals and unusual athletic events. Touring regional sights brings families closer to home and provides a fun, memorable way to explore America's regional cultures and cuisines.
Families looking for eccentric fun can't do better than to head to Wisconsin. Eclectic food stops abound. Wisconsin's Mount Horeb Mustard Museum houses the world's largest collection of mustard varieties -; visitors can see over 4,600 dijons, wasabis and grey poupons, not to mention antique mustard pots, vintage advertisements and other mustardy memorabilia. Those over 21 years old might enjoy a trip to the National Brewery Museum in Potosi, where they can view turn-of-the-century brewing equipment.
If visitors are the type to catch, not order, their dinner, Hayward's National Fresh Water Fishing Hall of Fame & Museum might appeal. The highlight of the museum is the "Shrine for Anglers" -; a four-and-one-half-story building shaped like a leaping muskie, a large fish whose gaping mouth serves as an observation platform.
Once visitors sate their physical hunger, they can satisfy spiritual needs at Beloit's Angel Museum, a converted church that shelters over 12,000 angel figurines, including 700 black angels donated by Oprah Winfrey. Near Sparta, The Paul and Matilda Wagner Grotto, also known as The Glass Church, a sculpture garden decorated with glass, serves as a nondenominational contemplation space and a grassroots art exhibit.
Other destinations celebrate American history, culture and innovation. Appleton's History Museum at the Castle contains equipment once owned by Harry Houdini, while Elkhorn's Watson's Wild West Museum displays antique spurs and over 2,000 branding irons. The Tommy Bartlett Exploratory in Wisconsin Dells contains mementos from a different sort of frontier -; visitors can see a Russian Mir core module and a replica of Sputnik 1.
For more information about experiencing Americana on the road, visit www.travelwisconsin.com or call 1-800-432-TRIP, extension 8747.
This article is copyright free. You are free to use it on a blog, website, in a newspaper, or newsletter.
To re-post this, copy the content above, or HTML on the right, and paste onto your site.