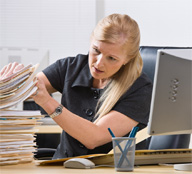 NewsUSA) – Antibiotics don't work if you don't take them correctly, yet patients consistently skip dosages, take too many dosages at once or end treatments early — what's going on?

In many cases, patients' lives interfere with their ability to stick to treatment regimes. Skipping a pill is the most common mistake patients make — but those who work through their illness might not get the opportunity to take a mid-day dose. This can lead some patients to take a double dose earlier in the day, which can also cause problems.

Other patients' schedules prevent them from taking pills at regular intervals. For example, someone might have three hours between their morning and mid-day pills, but not take their evening dosage for another 10 hours.

Patients need to take antibiotics correctly — and that means finding ways to fit antibiotics into busy schedules.

Convenience makes a difference — the more pills that need to be taken per day, the less patients stick to their treatments. A 2001 peer review of 76 studies by researchers A. Claxton, J. Cramer and C. Pierce found that, on average, 79 percent of patients complied with once-daily regimes, while only 65 percent took thrice-daily prescriptions correctly.

To make antibiotics more convenient, researchers are developing more once-daily antibiotics. For example, in January 2008,

the FDA approved Moxatag (www.moxatag.com), a once-daily antibiotic for the treatment of strep throat. The Moxatag tablet slowly releases amoxicillin (a drug in the penicillin family) as it goes through the digestive system, and its convenient, once-daily dosing can potentially lead to improved patient compliance.

Patients can also develop strategies to help them remember pills. For example, associating dosages with a daily activity, like brushing teeth, helps patients remember to take their pills. Even putting stickers or Post-Its on often-used items can improve compliance.

For more information, visit www.moxatag.com.

Important Safety Information:

MOXATAG is contraindicated in patients with known serious hypersensitivity to amoxicillin or to other drugs in the same class or patients who have demonstrated anaphylactic reactions to beta lactams. Serious and occasionally fatal hypersensitivity (anaphylactic) reactions have been reported in patients on penicillin therapy. If an allergic reaction occurs, MOXATAG should be discontinued and appropriate therapy instituted. Clostridium difficile Associated Diarrhea (CDAD) has been reported with nearly all antibacterial agents, including amoxicillin, and may range in severity from mild diarrhea to fatal colitis. If CDAD is suspected or confirmed, MOXATAG should be discontinued and appropriate therapy instituted. The possibility of superinfections with mycotic or bacterial pathogens should be kept in mind during therapy. If superinfections occur, MOXATAG should be discontinued and appropriate therapy instituted. The most common drug-related adverse reactions associated with MOXATAG observed in clinical studies are vulvovaginal mycotic infection (2.0%), diarrhea (1.7%), nausea (1.3%), vomiting (0.7%) and headache (1.0%). See www.moxatag.com for additional safety information on the safety of Moxatag. Moxatag is approved for the treatment of strep throat in patients 12 and older. Moxatag is a registered trademark of MiddleBrook Pharmaceuticals, Inc. This article is sponsored by MiddleBrook Pharmaceuticals, Inc.
This article is copyright free. You are free to use it on a blog, website, in a newspaper, or newsletter.
To re-post this, copy the content above, or HTML on the right, and paste onto your site.