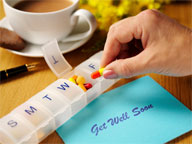 NewsUSA) – If you stop taking antibiotics as soon as symptoms end, the drugs potentially won't have the opportunity to kill every bacterium. Soon, you'll develop another infection — only this time, you'll need stronger antibiotics to stop it.

Patient noncompliance — that is, taking medications incorrectly — is the number-one reason that antibiotics fail. Worse, misusing antibiotics helps create bacteria that resist treatment.

Even patients with good intentions can become noncompliant. In a 2009 study from Spain's University Rovira i Virgili, only 55.1 percent of the patients taking antibiotics thrice daily finished at least 80 percent of their medication, mostly because they forgot their afternoon dose. In the study, patients taking antibiotics once a day showed a higher compliance rate at 86.7 percent.

To help yourself out, ask your doctor about once-a-day dosages. For example, while most strep treatments call for twice-daily or thrice-daily antibiotics, the FDA has approved a once-daily antibiotic for the treatment of strep throat called Moxatag. Moxatag employs a "pulse" delivery system — the tablet slowly releases amoxicillin, a drug in the penicillin family, as it travels through the digestive system. This technology allows the antibiotic to effectively kill strep throat bacteria with once-daily dosing whereas, other penicillin family regimens require multiple doses per day.

You can also avoid antibiotic resistance by making sure that you need antibiotics. Strep throat can only be diagnosed through a test -; if the test comes back negative, you don't need antibiotics. Also, you shouldn't ask your doctor for newer or stronger drugs. Penicillin-class antibiotics, like amoxicillin, are the best first line of treatment for strep throat — and there are no known cases of resistance to these antibiotics. Strep has been known, however, to resist stronger classes of antibiotics.

For more information, visit www.moxatag.com.

Important Safety Information

MOXATAG is contraindicated in patients with known serious hypersensitivity to amoxicillin or to other drugs in the same class or patients who have demonstrated anaphylactic reactions to betalactams. Serious and occasionally fatal hypersensitivity (anaphylactic) reactions have been reported in patients on penicillin therapy. If an allergic reaction occurs, MOXATAG should be discontinued and appropriate therapy instituted. Clostridium Difficile Associated Diarrhea (CDAD) has been reported with nearly all antibacterial agents, including amoxicillin, and may range in severity from mild diarrhea to fatal colitis. If CDAD is suspected or confirmed, MOXATAG should be discontinued and appropriate therapy instituted. The possibility of superinfections with mycotic or bacterial pathogens should be kept in mind during therapy. If superinfections occur, MOXATAG should be discontinued and appropriate therapy instituted. The most common drug-related adverse reactions associated with MOXATAG observed in clinical studies are vulvovaginal mycotic infection (2.0%), diarrhea (1.7%), nausea (1.3%), vomiting (0.7%) and headache (1.0%).

MOXATAG is approved for patients ages 12 and over. MOXATAG is a registered trademark of MiddleBrook Pharmaceuticals, Inc. See www.moxatag.com for additional safety information on the safety of Moxatag. This article is sponsored by MiddleBrook Pharmaceuticals, Inc.
This article is copyright free. You are free to use it on a blog, website, in a newspaper, or newsletter.
To re-post this, copy the content above, or HTML on the right, and paste onto your site.