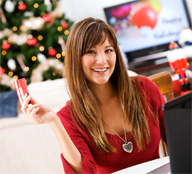 NewsUSA) – Holiday shopping means flashing plastic — you put gifts on credit cards with nary a thought. But identity thieves also enjoy the holiday season, for it presents plenty of opportunities to nab credit card and social security numbers.

Identity thieves obtain personal information through several different methods, including shoulder-surfing in lines, skimming devices, dumpster diving and hacking into online retail sites. What can shoppers do to protect themselves? LifeLock, a company that helps protect its members from identity theft, supplies the following tips:

* Be aware that your information is probably already out there via data losses or on public Web sites, and understand the proper procedures if someone begins using the information.

* Don't give out personal information via email or on social networking Web sites.

* Make sure your computer is updated and protected from viruses and malware. Also refrain from using any peer-to-peer software. These programs could provide openings for criminals to steal documents from your computer without you knowing.

* Consider using one-time-use credit cards, paying with cash or setting up a special holiday shopping bank account that isn't linked to your everyday accounts.

* Pay attention to who is around you and what is done with your information when you apply for store credit cards.

* Shop online only on secure Web sites, and never send personal information to sellers on eBay or other sites directly. Use a service like PayPal.

* Consider your defense options. With reports of identity theft and fraud at an all-time high, now is a great time to determine whether there is a defense system that would work for you. Consider all the options, and find a service that can search for your information and provide the the means to keep others from using it. And since nothing can stop all forms of identity theft or fraud, it's important to find a service that can provide the peace of mind you would want if something happens.

LifeLock recently introduced its LifeLock Identity Alert system to help consumers protect themselves during the holidays. LifeLock will alert members by e-mail, postal mail or phone when it detects personal information being used to apply for many credit cards, wireless services, retail credit, utilities, check orders or reorders, mortgage loans, auto loans and noncredit-related payday loans.

For more information, visit www.lifelock.com.
This article is copyright free. You are free to use it on a blog, website, in a newspaper, or newsletter.
To re-post this, copy the content above, or HTML on the right, and paste onto your site.