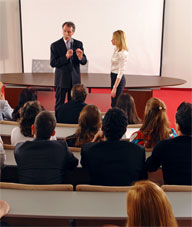 NewsUSA) – Entrepreneurs hoping to become their own boss know that it can be difficult to get a leg up in the business world. But there are ways to improve the chances of success. For example, purchasing a franchise allows Americans to enjoy the freedom of business ownership with fewer risks.

United Franchise Group (www.unitedfranchisegroup.com), which encompasses successful franchises such as Signarama, EmbroidMe, Billboard Connection and Plan Ahead Events, exemplifies some of the benefits of purchasing a franchise.

* Franchises provide proven business models. With a first business, it stands to reason that your business model will need adjustments. But when you purchase a franchise, you buy a business that knows how to operate. Franchises have a track record of success.

* Franchises come with built-in name recognition. Any successful franchise has spent years building its brand name and gaining public recognition. That means that the public immediately trusts new franchise locations. Instead of spending time and energy just getting the word out, you can devote yourself to running your business.

* Franchises offer financial advantages. Franchises can buy items in bulk, reducing costs for individual locations. Additionally, banks may be more willing to provide funding for a franchise than an independent business.

* Franchises offer training and support. For example, UFG employs a group of trained support specialists who travel to stores around the world to assist in everything from basic operation to business development. UFG also uses a mentorship program to help new franchisees. The company selects highly successful franchisees to advise new stores on opening, technical questions and other issues, as well as to provide motivation.

If owning a business sounds attractive, buying a franchise might just be the way to go. But it's important to do your research. For additional facts about UFG, visit www.unitedfranchisegroup.com.
This article is copyright free. You are free to use it on a blog, website, in a newspaper, or newsletter.
To re-post this, copy the content above, or HTML on the right, and paste onto your site.