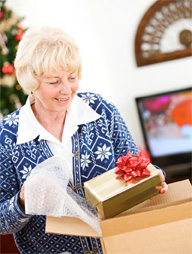 NewsUSA) – Economic woes don't have to ruin your spirits this holiday season. While costly airline tickets and gas prices may keep you at home, you can still shower your loved ones with gifts.

Until Santa's magical elves start a courier service, shipping holiday gifts is the most budget-friendly way to get presents from A to B. Shipping a gift, however, can bring its own worries -; will the gift arrive on time? Will it arrive in one piece?

The professionals at Pak Mail (www.pakmail.com), a full-service packing and shipping service with centers worldwide, offer the following tips for efficient, budget-friendly shipping:

– Ship early. Don't bust your budget on overnight shipping fees. Shop and ship early, and you'll save yourself a hassle. Pak Mail suggests shipping items to the military no later than November 13, mailing parcels to destinations within the United States by the second week of December and sending Priority Mail by the third week of December. Express Mail should be sent by December 22.

– If you're traveling, ship your gifts ahead of you. With airlines acting extra Scrooge-like over the number of checked bags and weight limits, you will save money if you ship your gifts to your holiday destination. Plus, spending less time in airport security may prove to be a gift in and of itself.

Consolidate your gifts. If you're sending gifts to several people in the same home, pack their gifts into one box. Sending one 20-pound box costs less than sending two 10-pound boxes. But pay attention to weight limits. While Pak Mail does not enforce size or weight limits, UPS, FedExGround, DHL and the U.S. Post Office do.

– Pack your gifts properly. Use packing materials like bubble wrap and peanuts to protect the items you are shipping. Enclose an extra label inside the package containing the sender's address and the recipient's address, in case one of the labels on the outside of the package becomes damaged. Consider hiring professionals to pack and crate strangely shaped or fragile gifts, which may require custom packaging.

– Comparison shop. Different carriers offer different rates, so get a few quotes before choosing a company. Some companies, like Pak Mail, will let you ship through your choice of carriers, ensuring that you get the best deal.
This article is copyright free. You are free to use it on a blog, website, in a newspaper, or newsletter.
To re-post this, copy the content above, or HTML on the right, and paste onto your site.