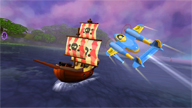 NewsUSA) – Kids love flight-simulator video games — looping, diving and soaring through scenery can provide hours of entertainment. The problem is that many flight games contain elements inappropriate for younger children, such as bombing or shooting targets. Due to the lack of great children flight games, some parents end up buying games too violent or difficult for their aspiring pilots.

D3Publisher's new "Kid Adventures: Sky Captain" game for Wii was created to fill that void. Children and adults alike will enjoy the fun and easy steering that allows them to explore colorful environments and complete the game's 40 diverse missions. Players can unlock several types of aircraft in the game, including a cow-abducting UFO and speedy jet, and engage in sky racing, stunt flying, target shooting, treasure hunting and more!

The weaponry in "Kid Adventures: Sky Captain" proves harmless, because in place of shooting bullets, the planes take pictures or launch water balloons. In one mission, players must use their shooting skills to put out a forest fire. Other exhilarating missions include races against other pilots, snapping photographs of dinosaurs, and helping pirates recover their missing treasure. The missions are challenging enough to keep children entertained, but not difficult to the point that players become frustrated.

The game has two multiplayer options. Two players can work together through missions, a capability that encourages cooperative play, or compete head-to-head in exciting races and aerial battles.

While the game's colorful, unique environments and easy-to-learn controls appeal to children; adults will find themselves hooked as well. The perfect game for kids and a pilot-in-training, "Kid Adventures: Sky Captain" is enjoyable for the entire family.

For more information, visit www.d3publisher.us.
This article is copyright free. You are free to use it on a blog, website, in a newspaper, or newsletter.
To re-post this, copy the content above, or HTML on the right, and paste onto your site.