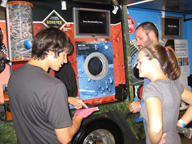 NewsUSA) – In today's economy, every purchase matters. You can't risk buying the latest cell phone or household appliance only to decide it doesn't meet your needs. Likewise, you can't afford to invest in a product without knowing how to make it fully functional.

According to an experiential marketing expert, experiential events are custom built to make people savvy consumers and more. "We create experiences that let consumers get familiar with brands and interact with experts. Our mission is to bring action- and information-packed experiences directly to people where they live, work and play. Your mission should be to get the most out of the experience when you step onto an event site," said Julie Guida, managing partner of Marketing Werks.

Guida shares tips for maximizing your experience:

* Enjoy these free, no-pressure fun zones. Go ahead, experience something rare and unusual! For example, outdoor enthusiasts at sports-themed festivals and competitions can step inside a weather chamber and create their own storm, courtesy of GORE-TEX. People have a howling good time with the howling winds and torrential rains whipped up inside the Extreme Weather Chamber. And they learn how to stay protected against the elements, too.

* Make the most of what you already have. Often you don't need something new, you need to know how to fully operate what you already have. At many events, you can access experts intent on helping you. They can teach you how to maximize the features of products and services you've already invested in.

* Help others when helping yourself. Sometimes what you do at a brand's experience impacts what they do for charity. For example, when you participate in the National Pork Board's "The Other White Meat Tour," you influence their donation to your local food bank. In 2009, thanks to you, America's Pork Producers donated 5,500 pounds of pork to the nation's food banks.

* Don't play the odds by passing up free stuff. Almost every experiential event distributes free samples and useful premiums. Additionally, they often feature easy-to-win contests and promotions. Some companies even dedicate millions of dollars to provide consumers free access to valuable services. For example, the AARP/Walgreens Wellness Tour offers adults six free health screenings valued at more than $140. Sponsors expect to deliver $30 million worth of free health screenings!

To learn more about how to maximize your experience, visit www.marketingwerks.com.
This article is copyright free. You are free to use it on a blog, website, in a newspaper, or newsletter.
To re-post this, copy the content above, or HTML on the right, and paste onto your site.