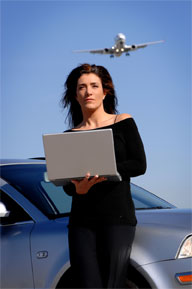 NewsUSA) – Before Americans hop aboard planes, they go online. According to the U.S. Travel Association, the Internet was the nation's top-ranking source of travel information in 2009. Between travel agency Web sites and search engines, Americans saw little reason to call travel agencies or airlines. But do travel Web sites really offer the best deals?

Many Web sites offer ridiculously low prices at first glance, like a $99 flight from New York City to London. But the price you see might not include taxes and other fees, which can increase costs quickly. In a 2004 Consumer Reports Webwatch research report, testers experienced repeated fare-jumping — the largest jump increased the ticket price by $748.

Would-be travelers might also click on a good deal, only to find that, by the time they enter their information, the seat is no longer available. Travelers might also spend hours online comparison-shopping, only to find the best prices gone by the time they go to book. Others might struggle to find a reasonable price on the return flight. What is going on?

"When you're buying a ticket online, your seats aren't confirmed until you enter your credit card information, so the seat can be lost while you type," explains John Ferry, CEO of CheapTrips (www.cheaptripsandfreeairfare.com). "However, if you're on the phone with one of our agents, they secure the price as they talk to you on the phone. You're always better off speaking to a person."

Travel agents can also compare prices far faster than the average computer user — often closing deals within five minutes — and advise travelers on hidden fees, like those on checked-baggage.

Ferry says that many Web sites do not publish the best prices. Airlines frequently offer less expensive, wholesale tickets that cannot be sold online. "Our travel representatives and vendors buy these confidential tickets in bulk, then sell them to our customers for less than online ticket prices."

If you're determined to book your flight online, look for travel Web sites that offer flexible booking — many tickets cannot be refunded, even if you find a better deal. For example, CheapTrips not only lets its members cancel trips, but also offers a full money-back guarantee if the customer finds a lower price within 24 hours. The Web site also offers free trips every day, which are available on a first-come, first-serve basis.

You should also make sure that you know what's included in the ticket price. CheapTrips offers benefits like emergency funds or emergency tickets home, while others give you nothing more than a seat on a plane.

To learn more, call 800-383-7708 or visit www.cheaptripsandfreeairfare.com.
This article is copyright free. You are free to use it on a blog, website, in a newspaper, or newsletter.
To re-post this, copy the content above, or HTML on the right, and paste onto your site.