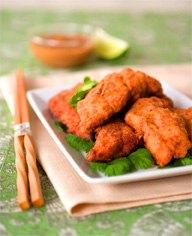 NewsUSA) – When you think about catfish, your mind probably turns to Southern fish frys. But U.S. Farm-Raised Catfish has a pleasing, mild taste that lends itself to a wide variety of flavors.

Take this recipe for Spicy Catfish Strips with Thai Peanut Dipping Sauce. You'll find that it packs some heat, making for a jazzy dinner party entrée or a great way to spice up a humdrum weekday:

Spicy Catfish Strips with Thai Peanut Dipping Sauce

Makes 2 servings

2 U.S. Farm-Raised Catfish fillets cut into 1 inch strips

2 tablespoons chili sauce, such as Siracha

1/2 cup fish breading

1 tablespoon Chinese Five Spice

2 cups vegetable oil

1 recipe Thai Peanut Sauce for serving

1. In a small bowl, combine the catfish and the chili paste.

2. In another small bowl, mix together the breading and Chinese Five Spice. Add the catfish strips a few at a time, tossing gently to coat with the breading and shaking off any excess.

3. In a large skillet, heat the oil to 350 degrees. Add the catfish strips slowly, and cook until golden brown, turning once (at about four minutes).

4. Remove them from the oil, and drain on paper towels. Place on a serving dish with Thai Peanut Sauce for dipping.

Easy Homemade Thai Peanut Sauce for Spicy Catfish

1/2 cup reduced fat coconut milk

3 tablespoons creamy (or crunchy) peanut butter

1 tablespoon reduced-sodium soy sauce

1/4 teaspoon red pepper flakes

1/4 teaspoon sesame oil

1 clove garlic, minced

1. In a small saucepan, whisk together all ingredients over medium heat; bring to a simmer.

2. Reduce heat to low; cook for five minutes.

3. Remove from the heat and let cool to room temperature before serving.
This article is copyright free. You are free to use it on a blog, website, in a newspaper, or newsletter.
To re-post this, copy the content above, or HTML on the right, and paste onto your site.