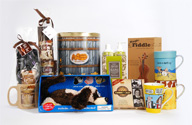 NewsUSA) – Today's economy has shifted focus from extravagant spending to more budget-conscious choices. With a little thought, finding unique gifts at great prices doesn't have to be a chore.

Cracker Barrel Old Country Store offers tips on how to maximize your shopping experience to make finding that perfect gift easier.

* Make a List. Make a list of gifting occasions throughout the year. Include who you want to shop for and how much you want to spend. Besides family, be sure to add teachers, neighbors and co-workers.

* Shop Smart. Select just one or two retailers that offer a variety of gift categories and prices. With your busy schedule, this convenience will make shopping a breeze.

* Little Luxuries. You don't have to pay expensive spa prices to pamper someone on your list. Purchase a few small soaps and scents, or even combine a few items to create a spa gift basket.

* Food Items. Need a gift for a host or hostess? Consider giving a packaged food item that the recipient can share with others or even a gift card.

* Extra, Extra! Look for "extras" such as free shipping or gift wrapping, to add a personal touch without adding up.

Cracker Barrel Old Country Store offers a variety of gifts at great values, including its recently launched collection of "Great Gifts." The collection features unique merchandise across several categories, including toys, media, Cracker-branded food, like popcorn, and gift packs of candles and scents. In addition, Cracker Barrel also sells some of its most popular foods from its restaurant, including pancake and corn muffin mixes, coffee, jars of jams and its signature fried apples. All of these items are great on their own or can even be combined into custom gift baskets.

Deb Evans, vice president of merchandising for Cracker Barrel says, "We work hard to provide outstanding service through such things as free gift-wrapping and shopping consultations. Our retail staff can provide good advice that creates a compelling value for shoppers."
This article is copyright free. You are free to use it on a blog, website, in a newspaper, or newsletter.
To re-post this, copy the content above, or HTML on the right, and paste onto your site.