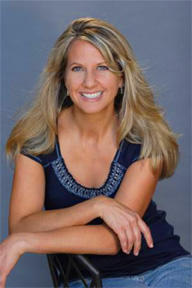 NewsUSA) – Whether it's jam-packed schedules, long lines or even longer lists, the happy holidays can be a time of stress. But if you plan ahead, be realistic and get creative, you can beat the holiday blues and celebrate your merriest season yet! Here's how I, a mother of seven and the author of "Total Mom", keep the holidays happy:

Spa-like Shopping Attitude

* To help ease your hectic holiday shopping, ditch the window-shopping and plan ahead by researching online. That way, you already know what you want and how much it costs, so you can stick to your budget.

* Shop for gifts in the morning — you'll get first crack at sales, and the stores will be organized and less crowded, allowing you to relax and focus on crossing items off your shopping list.

Share Memorable Meals

* Do you remember your favorite dish during the holidays as a child? Use that as inspiration for a family meal, and check www.GetBacktotheTable.com for easy, tasty recipe ideas!

* Plan your holiday meals in advance, and store up on non-perishable items when they're on sale. Canned vegetables such as Libby's are affordable, convenient and great-tasting in holiday favorites like green bean casserole and roasted corn.

Selective Entertaining

* Holiday parties are a great way to connect with family and friends, but a busy calendar can really take a toll on you and your family. Prioritize the parties and dinners everyone is looking forward to the most, and choose from there.

* Offer to take turns hosting with your family and friends each year to avoid having to attend multiple parties in one season.

For more tips on how to beat the holiday blues, stretch your dollars and spend more time with your family, visit www.GetBacktotheTable.com.

Hannah Keeley is a mother of seven, the host of "Hannah Help Me!" on PBS and author of "Hannah Keeley's Total Mom Makeover: The Six-Week Plan to Completely Transform Your Home, Health, Family, and Life."
This article is copyright free. You are free to use it on a blog, website, in a newspaper, or newsletter.
To re-post this, copy the content above, or HTML on the right, and paste onto your site.