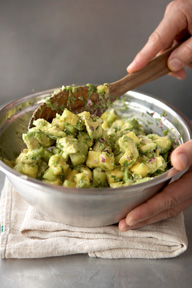 (NewsUSA) – In America, the most typical way to use avocados is in guacamole, which is frequently eaten as an appetizer and served with tortilla chips.
Mexican Chef Roberto Santibanez explains that guacamole is rarely served like that in his home country, and encourages people to explore other usages, such as adding guacamole to soups, eating with rice, serving it alongside grilled meats or on top of tacos. Not only is guacamole versatile, but a one-ounce serving of avocado contributes nearly 20 vitamins and minerals as well as mono- and polyunsaturated fats — the "good" fats.
For a refreshing twist on this traditional Mexican dish, Santibanez recommends jazzing up the classic guacamole with pineapple and cucumbers. He describes that "the soft crunch of cucumber, the sweet-tart flavor of pineapple and the creaminess of the avocado give each bite a flavorful punch perfect for pairing with grilled salmon, shrimp, steak and more."
PINEAPPLE CUCUMBER GUACAMOLE
1 cucumber, peeled, seeded, and diced (1/2 inch)
1/2 cup finely diced red onion
2 fresh serrano or jalapeño chiles, minced, including seeds, or more to taste
2 tablespoons freshly squeezed lime juice, or more to taste
3/4 teaspoon fine salt, or 1 1/2 teaspoons coarse salt
2 large or 3 small ripe Mexican Hass avocados, halved and pitted
1/2 pineapple, peeled, cored, and diced (1/2 inch)
1/4 cup chopped cilantro
In a large mixing bowl, combine the cucumber, onion, chiles, lime juice and salt. Score the flesh in the avocado halves in a cross-hatch pattern (not through the skin) with a knife and then scoop it with a spoon into the bowl and gently stir together (do not mash). Stir in the pineapple last so the fresh acidity is a distinct counterpart to the avocado. Season to taste with additional chile, lime juice and salt. Transfer the guacamole to a wide dish and sprinkle the cilantro on top. Serve it with corn tortillas, fish, steak, chicken, tacos, quesadillas or any other side you like. Recipe makes 5 cups.
Recipe published with permission from Truly Mexican (Wiley, 2011). Go to the www.theamazingavocado.com for creative recipes the whole family will enjoy and tips on how to buy and store avocados.
This article is copyright free. You are free to use it on a blog, website, in a newspaper, or newsletter.
To re-post this, copy the content above, or HTML on the right, and paste onto your site.