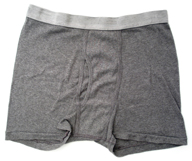 NewsUSA) – Updating a man's wardrobe means more that just substituting last season's clothing for more stylish attire — it also means buying new underwear.

Whether men are shopping for shorts, jeans, T-shirts or sweaters, guys care just as much about their underwear as the rest of their outfit. In fact, in a Calvin Klein Underwear survey of 600 men and 400 women conducted by Survey.com, 70 percent admitted that they consider underwear an extension of their personality. Seventy-five percent of the men surveyed said that they had never been caught in embarrassing underwear.

"Whether you are wearing a crisp white shirt, slim-fitting pants or rockin' your favorite pair of jeans, it's important to set your wardrobe foundation with a

stylish and comfortable pair of underwear," says Jeannie Mai, celebrity stylist, host of Style Network's "How Do I Look" and "Extra" correspondent. "There's nothing worse than seeing a gent in frumpy fabrics!"

So, what do men want in a pair of underwear? According to the survey, most preferred boxer briefs, and most bought their boxers in multiple pairs. Men like multi-colored or patterned underwear, and they consider the fabric when choosing their purchase. Ninety percent want underwear with good perceived value. On average, men buy more than eight pairs of underwear each year.

The survey results are consistent with Calvin Klein Underwear's popular styles. Classic Two Pack Boxer Briefs, which come in black and white, and Body Micro Modal Trunks, with their soft feel and body-defining fit, prove to be two top picks.

To help you choose the right foundation for your wardrobe, Calvin Klein Underwear offers the following tips for choosing comfortable men's underwear:

– Try different fabrics. Nearly every man loves 100 percent cotton, but there's a whole world of different fabrications to evaluate. Fabrics ranging from microfibers with wicking properties for the gym, to cotton stretch for increased support and a more flattering fit, will satisfy a wide range of personalities and lifestyles.

– Fit is key. Finding the perfect fit is essential. Too loose, and you end up with excess bunching; too tight, and you'll be squirming around all day. Don't forget that different fabrications fit differently — 100 percent cotton tends to be looser, while cotton stretch or microfibers tend to be more body-defining.

– Go with a brand you trust. Not all underwear is made the same. Usually the more prestigious brands pay more attention to creating a better fit and using higher-quality materials and construction in order to give you the best possible underwear.
This article is copyright free. You are free to use it on a blog, website, in a newspaper, or newsletter.
To re-post this, copy the content above, or HTML on the right, and paste onto your site.