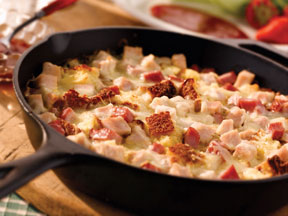 (NewsUSA) – Down-home favorites made with cornbread create hearty meals that warm bellies and satisfy the most selective taste buds. What's more, your creative cornbread recipe could put some cash in your pocket."Look to your own dinner table for the perfect source of inspiration for original recipe ideas," said the Martha White® baking expert, Linda Carman. "Everyone is impressed by traditional recipes with a twist, like our 2006 winner Monte Cristo Cornbread Skillet, but ideas for your own original recipe can come from anywhere."Martha White and Lodge® Cast Iron Cookware are holding a national cornbread cook-off, in which the top 10 finalists will also compete at the National Cornbread Festival in South Pittsburg, Tenn. The grand prize winner will receive a $5,000 cash prize. MONTE CRISTO CORNBREAD SKILLETServings: 61 (6 oz.) package Martha White Cotton Country™ Cornbread MixCrisco Original No-Stick Cooking Spray1 1/2 cups chopped cooked turkey1/2 cup chopped cooked ham1 1/2 cups shredded Swiss cheese4 large eggs1 cup milk2 tablespoons mayonnaise2 tablespoons honey mustard, divided1 1/2 teaspoons salt1/2 teaspoon pepper1/2 cup Smucker's ® Currant JellyPowdered sugar1. Prepare cornbread mix according to package directions, except bake in a 10 1/2-inch Lodge cast iron skillet (cornbread will be thin). Remove cornbread from skillet; cool and cut into cubes. Wipe out skillet with paper towels; spray generously with no-stick cooking spray.2. Heat oven to 350 degreeF. Place cornbread cubes in skillet. Top with turkey, ham and cheese. In medium bowl, whisk together eggs, milk, mayonnaise, 1 tablespoon honey mustard, salt and pepper until well blended. Pour evenly over ingredients in skillet. Bake 30 to 35 minutes or until set and lightly browned.3. Melt currant jelly by warming slightly. Add 1 tablespoon honey mustard; whisk to blend.4. Remove skillet from oven. Cut in wedges, sprinkle with powdered sugar and serve with currant jelly and mustard sauce.Find more details and Official Rules by visiting www.marthawhite.com.Contest open to legal residents of the 50 United States and D.C., 18 years and older. Void where prohibited. Crisco and Smucker's are trademarks of The J.M. Smucker Company.National Cornbread Festival is a trademark of National Cornbread Festival, Inc. Lodge is a trademark of Lodge Manufacturing Company.
This article is copyright free. You are free to use it on a blog, website, in a newspaper, or newsletter.
To re-post this, copy the content above, or HTML on the right, and paste onto your site.