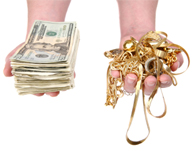 NewsUSA) – Given the turbulent stock market and the soaring price of precious metals, selling gold for cash has become big business, and consumers are attempting to "cash in" in record numbers. You have likely seen billboards, flyers or television ads for companies offering to buy your gold.

"Before you set out to sell your precious baubles, do your research," advises Amanda Gizzi, spokesperson for Jewelry Information Center (www.JIC.org)."Taking a few simple precautionary steps will help protect you and your gold investments." Before you can cash in, you should do the following:

Determine why you want to sell: It is important to evaluate why you want to sell your gold jewelry in the first place. Keep in mind that heirlooms, like most gold jewelry, often have strong sentimental attachments that make it difficult to put a price tag on them. Gizzi notes, "If you are determined to sell your gold jewelry, ideal candidates to consider are earrings with a missing partner and broken or outdated items."

Get an independent appraisal: Once you have determined which items you want to sell, be sure to get an independent appraisal to find out the estimated resale and melt-down value of the pieces. An independent appraisal should come from someone who is not looking to buy or sell the jewelry. Getting an appraisal will not only tell you the jewelry's value, but will also confirm the karatage — a determining factor in the price evaluation.

Check the value of gold daily: The price of metals fluctuates daily. Check on trusted Web sites such as www.gold.org and www.kitco.com to track the daily value of gold. However, keep in mind that the daily gold quote is not directly transferable to the price you'll receive. Rather, it gives you a reference to help you determine the best time to sell.

Get multiple quotes: Like most savvy shoppers, you probably shop around to find the best deal on anything from cars to eggs. As you set out to sell your precious gold, it is important to get multiple quotes. The price offers can vary widely. If you are considering a mail-in program, never send your jewelry to a company that does not offer you insurance.

Shop with a reputable jeweler: When selling your gold items, you should deal with a reputable jeweler. Check with your local jeweler to see if they are member of Jewelers of America (www.jewelers.org), the national trade association for businesses serving the fine jewelry retail marketplace. Recent reports have shown that local jewelers offer higher prices than their mail-in program competitors. Most importantly, you can have peace of mind knowing that your gold jewelry is in good hands.

For more information on gold and fine jewelry, visit Jewelry Information Center at www.JIC.org.
This article is copyright free. You are free to use it on a blog, website, in a newspaper, or newsletter.
To re-post this, copy the content above, or HTML on the right, and paste onto your site.