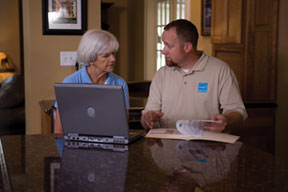 (NewsUSA) – Are your home energy bills high? If the answer is yes, consider participating in Home Performance with Energy Star. This national program provides comprehensive home energy assessments, incentives and low-interest loans to help homeowners reduce their energy use and costs.
According to the New York State Energy Research and Development Authority (NYSERDA), homes that go through the program are saving 20 percent, on average, in their energy use. Equally important, the homes are more comfortable and healthier to live in.
Joe Morabito was the 50,000th homeowner in New York State to benefit from NYSERDA's Home Performance with Energy Star program. After living for six years in his 1940s two-story house in Rochester, the family was eager to reduce its energy bills and fix the hot and cold areas they felt in several rooms.
A contractor performed a whole-house energy assessment to identify the energy improvements the Morabitos should make, including adding insulation, air sealing and a programmable thermostat. Since having the work done, the family has saved 23 percent on their energy bills and Morabito says, "the house holds the heat in a lot better than it used to."
Follow these steps to take advantage of the program:
Step 1: Find a local participating Home Performance with Energy Star contractor to work with. Then apply online or download an application for a comprehensive home energy assessment, which is free for most New York homeowners. New York residents can access a list of contractors by zip code and get the application at nyserda.ny.gov/comfortable.
Step 2: Use the assessment results to develop a plan with your contractor that meets the unique needs of your home. Then discuss options for paying for the energy upgrades. New Yorkers can access low-cost financing and pay for the upgrades on their utility bill using their energy savings.
Step 3: Once the contractor completes the work, you sign off, and your contractor is paid.
Step 4: Receive 10 percent cash back incentive on eligible energy efficiency measures.
To see how one couple followed the process, watch Irreconcilable Temperatures at nyserda.ny.gov/comfortable. This entertaining webisode series shows how Wendy and Russell used the program to save not only energy and money, but also their marriage. New York homeowners can also see what's involved in a comprehensive home energy assessment on this site, or apply for NYSERDA's Home Performance with Energy Star program.
This article is copyright free. You are free to use it on a blog, website, in a newspaper, or newsletter.
To re-post this, copy the content above, or HTML on the right, and paste onto your site.