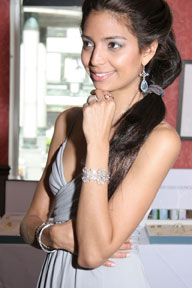 NewsUSA) – Showing no signs of minimalism, the trend in fine jewelry continues to be bigger is better. Clothing for the upcoming seasons is simple in shape and monochromatic in palette, allowing jewelry to take center stage. Jewelry Information Center provides a sneak peak at the jewelry styles worthy of investing in this season:

Oversized, Chandelier-Esque Earrings

Chandelier earrings should be a staple in women's jewelry wardrobes. This season, there is a plethora of over-sized earrings that break out from the traditional shapes and styles. One of which is hoop earrings with embellishments such as tassels, fringe and tribal cut-outs that give instant drama to otherwise traditional hoops. If you don't think you can wear oversized earrings, opt for long, slim and slightly more understated matchstick earrings as they look modern now as well.

Big, Bold Necklaces

Tiny, personal pendants still have their place this season, however, the attention goes to necklaces that take up serious neck real estate. Bib-like necklaces lay nicely on the neck, and Y-shaped necklaces with tassels and fringe have an elegant movement about them and even with smaller sizes, they can be attention-grabbing. Gemstones necklaces have Victorian details like draping chains connecting clusters of richly hued gemstone flowers.

Nature's Inspiration

Nature has inspired jewelry in remarkable ways. All things inspired by the ocean are becoming increasingly popular. Shell necklaces, earrings and rings that are mixed with precious metals instantly transport the mind away from life's chaos. Gemstones that appear to be tumbled, in a rough state, or not perfectly polished are great jewelry designs for getting attention. Geodes and minerals are hand-crafted with precious metals, creating a "plucked from the earth" look that suits the season. And perfect pearls, round in shape and creamy-white in color, now make room for less impeccable ones like oddly shaped yet beautiful baroque pearls as well as those that are mocha colored.

As with all fine jewelry trends, these trends can be found in a wide range of prices that meet the demanding needs of the economy today. For more information on fine jewelry trends or to find a reputable jeweler in your area, visit www.jic.org.
This article is copyright free. You are free to use it on a blog, website, in a newspaper, or newsletter.
To re-post this, copy the content above, or HTML on the right, and paste onto your site.