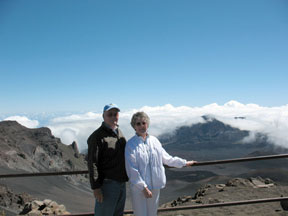 (NewsUSA) – For the fifteenth year, November has been declared National Family Caregivers Month. Parkinson's disease (PD), which inhibits motor skill function and cognitive ability, affects not only the person diagnosed but also family and friends around them. Carolyn manages her PD with proper treatment, exercise and support from her husband and caregiver of 51 years, Joe.In his caregiver role, Joe says, "From day one, I had to accept the hand we were dealt and do what I could to ensure that Carolyn remained active and continued taking her medication as directed."After experiencing a slight tremor in her right thumb and persistent handwriting abnormalities for five years, Carolyn and Joe visited a neurologist who diagnosed her PD and prescribed AZILECT® (rasagiline tablets) and regular exercise to help manage her disease.While symptoms and treatment may vary among patients, Carolyn finds that having her husband, Joe, as a dedicated caregiver makes life easier. When asked his most important piece of advice for fellow caregivers, Joe replied, "Long-term planning for medical and financial security is essential." Additionally, he cites patience and understanding as two virtues that all caregivers must display.With Joe's care and her daily treatment, Carolyn has been able to continue enjoying the things she loves, like spending time with her grandchildren, traveling and enjoying water sports at a nearby lake.For more information about PD, please visit www.parkinsonshealth.com. IMPORTANT SAFETY INFORMATION ABOUT AZILECT Patients should not take AZILECT if they are taking meperidine as it could result in a serious reaction such as coma or death. Also, patients should not take AZILECT with tramadol, methadone, propoxyphene, dextromethorphan, St. John's wort, or cyclobenzaprine. Patients also should not take AZILECT with other monoamine oxidase inhibitors (MAOIs). Patients should inform their physician if they are taking, or planning to take, any prescription or over-the-counter drugs, especially antidepressants and ciprofloxacin. If patients have moderate to severe liver disease, they should not take AZILECT. Patients should not exceed a dose of 1 mg per day of AZILECT in order to prevent a possibly dangerous increase in blood pressure. All PD patients should be monitored for melanoma (skin cancer) on a regular basis. Side effects seen with AZILECT alone are flu syndrome, joint pain, depression, and indigestion; and when taken with levodopa are uncontrolled movements (dyskinesia), accidental injury, weight loss, low blood pressure when standing, vomiting, anorexia, joint pain, abdominal pain, nausea, constipation, dry mouth, rash, abnormal dreams, and fall. You are encouraged to report negative side effects of prescription drugs to the FDA. Visit www.fda.gov/medwatch, or call 1-800-FDA-1088. See additional important information at http://azilect.com/Resources/PDFs/PrescribingInformation-pdf.aspx, or call 1-877-4-AZILECT.
This article is copyright free. You are free to use it on a blog, website, in a newspaper, or newsletter.
To re-post this, copy the content above, or HTML on the right, and paste onto your site.