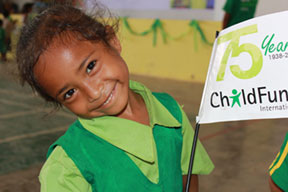 (NewsUSA) – ChildFund has put Richmond, Va., on the map. All over it, actually. The international child-focused development and protection agency currently serves children in 30 countries. Yet, when you count all the places the organization has worked in the 75 years since its 1938 founding, ChildFund has touched lives in nearly 100 nations across Africa, the Americas, Asia and Europe.
The original idea from 1938 was simple: Create a connection between individuals who want to give and children in need.
After its founding as China's Children Fund, the organization expanded its reach to other countries, and for decades was known as Christian Children's Fund — advertising on TV with a phone number to call and sponsor a child living in poverty.
ChildFund International, as the organization is known today, still maintains the individual sponsor-to-child relationship. Its approach, though, has evolved into one of community development, with sponsor funds pooled to improve environments in the communities where sponsored children live. Support from diverse donors and institutions allow ChildFund to expand its work for children.
Through the years, ChildFund has learned many things about children.
Children need loving caregivers, health care, nutrition, clean water and sanitation, education, opportunity and safety. If any one of these is missing, a child's potential remains out of reach.
A child's earliest years are the most important. During this sensitive time, the foundations for a child's future development are laid, and disruptions have lifelong consequences.
Children's experience of poverty differs from that of adults, and that experience changes as they grow from infancy to childhood to adolescence and young adulthood. We know that at every age, children have unique gifts to offer their communities.
Locally owned change is the most sustainable. When community members join hands to create an environment where children can thrive, children do.
ChildFund has mobilized a global network of relationships linking children, sponsors, parents, teachers, community members, community leaders, local organizations, schools, local and national governments, foundations, corporations and more.
What ChildFund doesn't know is how many children it has helped. That is because so many of the children who have been helped have gone on to help many others. For example, Monica, once a sponsored child in Ecuador, earned a degree in finance and now manages her community's credit union and helps many families.
Thanks to wonderful supporters, these sponsored children grew up to change more children's lives.
This article is copyright free. You are free to use it on a blog, website, in a newspaper, or newsletter.
To re-post this, copy the content above, or HTML on the right, and paste onto your site.