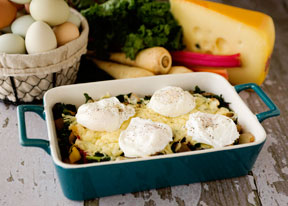 (NewsUSA) – Restaurant owners spend countless hours fretting over food stock and prices, catering to customers, negotiating with suppliers and supervising staff. How does a super-busy food entrepreneur stay on top of business and make time for a healthy meal?We asked Megan Walhood and Jeremy Daniels, co-owners of the popular Portland, Oregon-based Viking Soul Food, and the answer was: Plan ahead and eat a good breakfast!"Hunger can lead to overeating, so breakfast is important. We'll prepare a vegetable and cheese gratin or frittata, using eggs from pasture-raised chickens. This makes a tremendous difference in taste, not to mention nutritional value. We shop daily at a local farm stand and buy seasonal," says Walhood.The gratin recipe can be prepped the night before and the frittata version — found at www.vikingsoulfood.com — wrapped in pita or flatbread for a delicious on-the-go breakfast treat. VIKING SOUL FOOD GRATIN1 tablespoon good olive oil1 yellow onion, peeled and chopped into thumb-size pieces1-2 parsnips (or carrots), peeled and chopped into 1/2-inch cubes1 bunch EACH kale and chard, stems and leaves separated and roughly chopped1/2 head garlic, about 5-6 cloves, peeled and thinly slicedKosher salt, ground black pepper1 cup grated Jarlsberg cheeseDash of vinegar4 farm eggs, preferably from pasture-raised chickensHeat olive oil in large skillet. Add onion and parsnip and cook, stirring occasionally for 15 minutes. Add kale/chard stems to pan. Cook for 5 minutes, stirring. Add garlic slices and stir until they become aromatic. Add kale/chard leaves. Season with salt and pepper, stir well, and cover; cook about 4-5 minutes. Lay veggies in a roasting pan and top with grated Jarlsberg. You can stop here, cover and refrigerate, to finish the next morning.Preheat broiler to medium. Heat a pot of water to just below a simmer; add a dash of vinegar. Gently crack 4 eggs into hot water and poach about 3-4 minutes. Do not let water boil. While eggs are poaching, heat vegetable dish in broiler until cheese is melty and golden.Remove gratin from broiler. Using a slotted spoon, gently remove eggs from water and place atop the gratin. Season with coarse grating of salt and black pepper. Serves 4.
This article is copyright free. You are free to use it on a blog, website, in a newspaper, or newsletter.
To re-post this, copy the content above, or HTML on the right, and paste onto your site.